---

Volume 68
Part 11
Page m1433
November 2012
Received 17 October 2012
Accepted 25 October 2012
Online 31 October 2012
Key indicators
Single-crystal X-ray study
T = 293 K
Mean

(C-C) = 0.007 Å
R = 0.055
wR = 0.133
Data-to-parameter ratio = 14.2
Details

catena-Poly[[diaquabis[2-(3-oxo-1,3-dihydro-2-benzofuran-1-yl)acetato-O]cobalt(II)]--1,2-bis(pyridin-4-yl)ethane-2N:N']

In the title complex, [Co(C10H7O4)2(C12H12N2)(H2O)2]n, the CoII ion is located on a crystallographic centre of symmetry and is six-coordinated by two N atoms from two 1,2-bis(4-pyridyl)ethane ligands, two carboxylate O atoms from two 1,3-dihydro-3-oxo-1-isobenzofuranacetate ligands and two terminal water ligands. The 1,2-bis(4-pyridyl)ethane ligands act as bidentate ligands, and bridge the CoII ions into infinite chains extending parallel to [010]. In these chains, there are intra-molecular O-H

O hydrogen bonding between the coordination water molecules and carboxylate groups. Inter-molecular O-H

O hydrogen bonding between the adjacent chains and



stacking interactions result in the formation of a three-dimensional supramolecular network.
Related literature
For in situ ligand reactions, see: Zhang et al. (2005

); Chen et al. (2007

); Zhao et al. (2008

).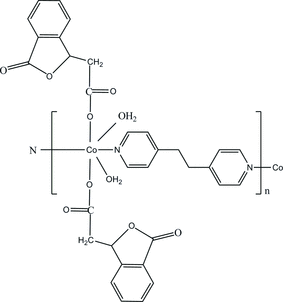 Experimental
Data collection: SMART (Bruker, 1997

); cell refinement: SAINT (Bruker, 1997

); data reduction: SAINT; program(s) used to solve structure: SHELXS97 (Sheldrick, 2008

); program(s) used to refine structure: SHELXL97 (Sheldrick, 2008

); molecular graphics: SHELXTL (Sheldrick, 2008

); software used to prepare material for publication: SHELXTL.
---
Supplementary data and figures for this paper are available from the IUCr electronic archives (Reference: HG5263 ).
---
Acknowledgements
This work was supported by National Nature Science Foundation of China (No. 21101013) and Fundamental Research Funds for the Central Universities (No. FRF-BR-10-002 A).
Bruker (1997). SMART, SAINT and SADABS. Bruker AXS Inc., Madison, Wisconsin, USA.
Chen, X. M. & Tong, M. L. (2007). Acc. Chem. Res. 40, 162-170.




Sheldrick, G. M. (2008). Acta Cryst. A64, 112-122.



Zhang, X. M. (2005). Coord. Chem. Rev. 249, 1201-1219.




Zhao, H., Qu, Z. R., Ye, H. Y. & Xiong, R. G. (2008). Chem. Soc. Rev. 37, 84-100.