---

Volume 68
Part 11
Page o3085
November 2012
Received 20 September 2012
Accepted 1 October 2012
Online 6 October 2012
Key indicators
Single-crystal X-ray study
T = 100 K
Mean

(C-C) = 0.001 Å
R = 0.039
wR = 0.105
Data-to-parameter ratio = 23.5
Details

3-[Bis(dimethylamino)methylene]-1,1-diphenylurea

In the title compound, C18H22N4O, the C=N and C-N bond lengths in the CN3 unit are 1.3179 (11), 1.3551 (11) and 1.3737 (11) Å, indicating double- and single-bond character, respectively. The N-C-N angles are 115.91 (8), 118.20 (8) and 125.69 (8), showing a deviation of the CN3 plane from an ideal trigonal-planar geometry. The bonds between the N atoms and the terminal C-methyl groups all have values close to a typical single bond [1.4529 (12)-1.4624 (12) Å]. The dihedral angle between the phenyl rings is 79.63 (4)°. In the crystal, the molecules are connected via weak C-H

O hydrogen bonds, generating chains along [100].
Related literature
For synthesis of N-dimethylcarbamoyl-N',N',N'',N''-tetramethylguanidine, see: Möllers et al. (2003

). For the crystal structures of 2- and 5-azido-N-(diphenylcarbamoyl) proline methyl ester, see: Lynch et al. (1995

).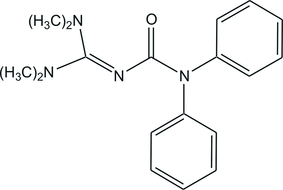 Experimental
Data collection: APEX2 (Bruker, 2008

); cell refinement: SAINT (Bruker, 2008

); data reduction: SAINT; program(s) used to solve structure: SHELXS97 (Sheldrick, 2008

); program(s) used to refine structure: SHELXL97 (Sheldrick, 2008

); molecular graphics: DIAMOND (Brandenburg & Putz, 2005

); software used to prepare material for publication: SHELXL97.
---
Supplementary data and figures for this paper are available from the IUCr electronic archives (Reference: IM2403 ).
---
The author thanks Dr W. Frey (Institut für Organische Chemie, Universität Stuttgart) for the data collection.
Brandenburg, K. & Putz, H. (2005). DIAMOND. Crystal Impact GbR, D-53002 Bonn, Germany.
Bruker (2008). APEX2 and SAINT. Bruker AXS Inc., Madison, Wisconsin, USA.
Lynch, V. M., Hulme, C., Magnus, P. & Davis, B. E. (1995). Acta Cryst. C51, 2598-2601.



Möllers, C., Prigge, J., Wibbeling, B., Fröhlich, R., Brockmeyer, A., Schäfer, H. J., Schmälzlin, E., Bräuchle, C., Meerholz, K. & Würthwein, E.-U. (2003). Eur. J. Org. Chem. 1198-1208.
Sheldrick, G. M. (2008). Acta Cryst. A64, 112-122.