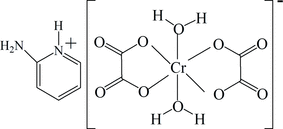 Acta Cryst. (2012). E68, m1325-m1326
[ doi:10.1107/S1600536812040950 ]
2-Aminopyridinium trans-diaquabis(oxalato-2O,O)chromate(III)
J. Nenwa, G. Bebga, S. Martin, M. M. Bélombé, M. Mbarki and B. P. T. Fokwa
---
Key indicators
Single-crystal X-ray study
T = 100 K
Mean (C-C) = 0.005 Å
Disorder in solvent or counterion
R factor = 0.039
wR factor = 0.088
Data-to-parameter ratio = 15.4
checkCIF/PLATON results
No syntax errors found




---




---


Alert level B
PLAT223_ALERT_4_B Large Solvent/Anion  H     Ueq(max)/Ueq(min) ...        4.1 Ratio


---


Alert level C
SHFSU01_ALERT_2_C  Test not performed. _refine_ls_shift/su_max and
            _refine_ls_shift/esd_max not present.
            Absolute value of the parameter shift to su ratio given   0.001
PLAT250_ALERT_2_C Large U3/U1 Ratio for Average U(i,j) Tensor ....        2.2      
PLAT910_ALERT_3_C Missing # of FCF Reflections Below Th(Min) .....          1      
PLAT915_ALERT_3_C Low Friedel Pair Coverage ......................         90 Perc.
PLAT922_ALERT_1_C wR2 in the CIF and FCF Differ by ...............     0.0023      
PLAT923_ALERT_1_C S    values in the CIF and FCF Differ by .......      0.134      
PLAT927_ALERT_1_C Reported and Calculated  wR2 Differ by .........     0.0022      
PLAT928_ALERT_1_C Reported and Calculated    S value   Differ by .      0.134      


---


Alert level G
REFLT03_ALERT_4_G Please check that the estimate of the number of Friedel pairs is
            correct. If it is not, please give the correct count in the
            _publ_section_exptl_refinement section of the submitted CIF.
           From the CIF: _diffrn_reflns_theta_max           30.66
           From the CIF: _reflns_number_total               3716
           Count of symmetry unique reflns         2009
           Completeness (_total/calc)            184.97%
           TEST3: Check Friedels for noncentro structure
           Estimate of Friedel pairs measured      1707
           Fraction of Friedel pairs measured     0.850
           Are heavy atom types Z>Si present        yes
PLAT002_ALERT_2_G Number of Distance or Angle Restraints on AtSite         20      
PLAT005_ALERT_5_G No _iucr_refine_instructions_details in CIF ....          ?
PLAT007_ALERT_5_G Note: Number of Unrefined D-H Atoms ............          6      
PLAT033_ALERT_4_G Flack x Parameter Value Deviates from Zero .....      0.250      
PLAT302_ALERT_4_G Note: Anion/Solvent Disorder ...................        100 Perc.
PLAT720_ALERT_4_G Number of Unusual/Non-Standard Labels ..........          9      
PLAT811_ALERT_5_G No ADDSYM Analysis: Too Many Excluded Atoms ....          !
PLAT860_ALERT_3_G Note: Number of Least-Squares Restraints .......         21      
PLAT912_ALERT_4_G Missing # of FCF Reflections Above STh/L=  0.600         83      


---


   0 ALERT level A = Most likely a serious problem - resolve or explain
   1 ALERT level B = A potentially serious problem, consider carefully
   8 ALERT level C = Check. Ensure it is not caused by an omission or oversight
  10 ALERT level G = General information/check it is not something unexpected

   4 ALERT type 1 CIF construction/syntax error, inconsistent or missing data
   3 ALERT type 2 Indicator that the structure model may be wrong or deficient
   3 ALERT type 3 Indicator that the structure quality may be low
   6 ALERT type 4 Improvement, methodology, query or suggestion
   3 ALERT type 5 Informative message, check


---



checkCIF publication errors


---


Alert level A
PUBL024_ALERT_1_A The number of authors is greater than 5.
              Please specify the role of each of the co-authors
              for your paper.

| | |
| --- | --- |
| | Author Response: Main Autor: Idea and writes the manuscript Synthesis and crystal growth: Sign\'e and Gouet Figures drawing and Discussion: B\'elomb\'e Structure solution and refinement: Fokwa and Mbarki |



---


   1 ALERT level A = Data missing that is essential or data in wrong format
   0 ALERT level G = General alerts. Data that may be required is missing

---
Copyright © International Union of Crystallography
IUCr Webmaster