---

Volume 68
Part 11
Page o3251
November 2012
Received 1 August 2012
Accepted 25 October 2012
Online 31 October 2012
Key indicators
Single-crystal X-ray study
T = 133 K
Mean

(C-C) = 0.003 Å
R = 0.047
wR = 0.124
Data-to-parameter ratio = 10.8
Details

6,8-Dihydroxy-8a-methyl-3,5-dimethylidenedecahydronaphtho[2,3-b]furan-2(3H)-one

The title compound, C15H20O4, is a eudesmanolide isolated from the Chinese medicinal plant Carpesium triste Maxim. The molecule contains three rings, viz. two fused six-membered rings in chair conformations and a five-membered ring in a flattened envelope conformation. In the crystal, two hydroxy groups are involved in the formation of intra- and intermolecular O-H

O hydrogen bonds. The H atoms in these groups are split, with site-occupation factors of 0.5. The intermolecular hydrogen bonds link molecules into chains propagating in [010].
Related literature
For related compounds extracted from Carpesium triste Maxim, see: Masao & Fumiko (1975

).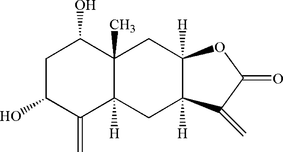 Experimental
Data collection: CrystalClear (Rigaku/MSC, 2008

); cell refinement: CrystalClear; data reduction: CrystalClear; program(s) used to solve structure: SHELXS97 (Sheldrick, 2008

); program(s) used to refine structure: SHELXL97 (Sheldrick, 2008

); molecular graphics: SHELXTL (Sheldrick, 2008

); software used to prepare material for publication: SHELXTL.
---
Supplementary data and figures for this paper are available from the IUCr electronic archives (Reference: RK2376 ).
---
Acknowledgements
The project was supported by the 985 Project (grant Nos. MUC98504-14, MUC98507-08), Minzu University of China, together with the `Programme of Introducing Talents of Discipline to Universities' (grant No. B08044), and the `Project for Scientific and Technical Achievements in Industrialization', Beijing Education Commission.
---
Acta Cryst (2012). E68, o3251 [ doi:10.1107/S160053681204425X ]