Related literature
For the Sharpless asymmetric aminohydroxylation, see: Rudolph et al. (1996

). For the synthesis of the phenylisoserine precursor of the title molecule, see: Montiel-Smith et al. (2002

). For the stereocontrolled formation of the oxazolidine in the title molecule, see: Denis et al. (1994

). For the structure of a related chiral N-Boc-protected oxazolidine, see: Tinant et al. (1996

). For puckering parameters, see: Cremer & Pople (1975

).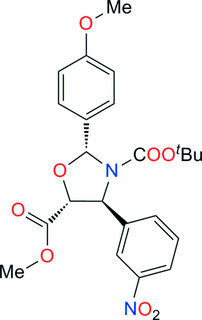 Experimental
Data collection: XSCANS (Siemens, 1996

); cell refinement: XSCANS; data reduction: XSCANS; program(s) used to solve structure: SHELXS97 (Sheldrick, 2008

); program(s) used to refine structure: SHELXL97 (Sheldrick, 2008

); molecular graphics: Mercury (Macrae et al., 2008

); software used to prepare material for publication: SHELXL97.
---
Supplementary data and figures for this paper are available from the IUCr electronic archives (Reference: RZ5008 ).
---
This work was supported by the France-Mexico ECOS-ANUIES (M97-E02) agreement.
Cremer, D. & Pople, J. A. (1975). J. Am. Chem. Soc. 97, 1354-1358.




Denis, J.-N., Kanazawa, A. M. & Green, A. E. (1994). Tetrahedron Lett. 35, 105-108.




Macrae, C. F., Bruno, I. J., Chisholm, J. A., Edgington, P. R., McCabe, P., Pidcock, E., Rodriguez-Monge, L., Taylor, R., van de Streek, J. & Wood, P. A. (2008). J. Appl. Cryst. 41, 466-470.





Montiel-Smith, S., Cervantes-Mejía, V., Dubois, J., Guénard, D., Guéritte, F. & Sandoval-Ramírez, J. (2002). Eur. J. Org. Chem. pp. 2260-2264.
Rudolph, J., Sennhenn, P. C., Vlaar, C. P. & Sharpless, K. B. (1996). Angew. Chem. Int. Ed. 35, 2810-2813.


Sheldrick, G. M. (2008). Acta Cryst. A64, 112-122.



Siemens (1996). XSCANS. Siemens Analytical X-ray Instruments Inc., Madison, Wisconsin, USA.
Tinant, B., Declercq, J. P. & Cagnon, J. R. (1996). Bull. Soc. Chim. Belg. 105, 325-328.