---

Volume 68
Part 11
Page o3237
November 2012
Received 22 October 2012
Accepted 25 October 2012
Online 31 October 2012
Key indicators
Single-crystal X-ray study
T = 223 K
Mean

(C-C) = 0.005 Å
R = 0.073
wR = 0.138
Data-to-parameter ratio = 15.7
Details

Benzoximate

aDepartment of Chemistry and Research Institute of Natural Sciences, Gyeongsang National University, Jinju 660-701, Republic of Korea, and bDepartment of Food and Nutrition, Kyungnam College of Information and Technology, Busan 617-701, Republic of Korea
Correspondence e-mail: jekim@gnu.ac.kr, kmpark@gnu.ac.kr
In the title compound [systematic name: (3-chloro-2,6-dimethoxyphenyl)(ethoxyimino)methyl benzoate], C18H18ClNO5, the phenyl and chlorodimethoxyphenyl rings are linked by the ethoxyiminomethyl benzoate system such that they are almost perpendicular to each other with the dihedral angle between them being 85.72 (9)°. In the crystal, C-H

O and C-H

Cl hydrogen bonds between the phenyl and chlorodimethoxyphenyl rings generate R22(8) rings which link the molecules into zigzag chains along the b axis. Additional C-H

O contacts, together with weak intermolecular C-H


interactions, further link the molecules into a three-dimensional network.
Related literature
For information on the toxicity of the title compound, see: Kim et al. (2007

). For a description of the Cambridge Structural Database, see: Allen (2002

). For hydrogen-bond motifs, see: Bernstein et al. (1995

).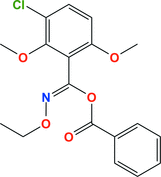 Experimental
Data collection: APEX2 (Bruker, 2006

); cell refinement: SAINT (Bruker, 2006

); data reduction: SAINT; program(s) used to solve structure: SHELXTL (Sheldrick, 2008

); program(s) used to refine structure: SHELXTL; molecular graphics: SHELXTL and DIAMOND (Brandenburg, 1998

); software used to prepare material for publication: SHELXTL.
---
Supplementary data and figures for this paper are available from the IUCr electronic archives (Reference: SJ5275 ).
---
This research was supported by the Basic Science Research Program through the National Research Foundation of Korea (NRF) funded by the Ministry of Education, Science and Technology (grant Nos. 2012M2B2A4029305 and 2012-0007693).
Allen, F. H. (2002). Acta Cryst. B58, 380-388.




Bernstein, J., Davis, R. E., Shimoni, L. & Chang, N.-L. (1995). Angew. Chem. Int. Ed. Engl. 34, 1555-1573.




Brandenburg, K. (1998). DIAMOND. Crystal Impact GbR, Bonn, Germany.
Bruker (2006). APEX2 and SAINT. Bruker AXS Inc., Madison, Wisconsin, USA.
Kim, Y.-J., Lee, S.-W., Cho, J.-R., Park, H.-M. & Ahn, Y.-J. (2007). J. Asia Pac. Entomol. 10, 165-170.



Sheldrick, G. M. (1996). SADABS. University of Göttingen, Germany.
Sheldrick, G. M. (2008). Acta Cryst. A64, 112-122.