---

Volume 68
Part 11
Page o3118
November 2012
Received 5 October 2012
Accepted 8 October 2012
Online 13 October 2012
Key indicators
Single-crystal X-ray study
T = 100 K
Mean

(C-C) = 0.002 Å
R = 0.037
wR = 0.091
Data-to-parameter ratio = 17.3
Details

4-Morpholinecarboxamidine

In the crystal structure of the title compound, C5H11N3O, the C=N and C-N bond lengths in the CN3 unit are 1.2971 (14), 1.3595 (14) (NH2) and 1.3902 (13) Å, indicating double- and single-bond character, respectively. The N-C-N angles are 115.49 (9)°, 119.68 (10)° and 124.83 (10)°, showing a deviation of the CN3 plane from an ideal trigonal-planar geometry. The morpholine ring is in a chair conformation. In the crystal, the molecules are linked by N-H

N and N-H

O hydrogen bonds, generating a three-dimensional network.
Related literature
For the synthesis of carboxamides by amidination of secondary amines with 4-benzyl-3,5-dimethyl-1H-pyrazole-1-carboxamidine hydrochloride, see: Dräger et al. (2002

). For the crystal structure of 4,4'-carbonyl-dimorpholine, see: Zhou et al. (2003

).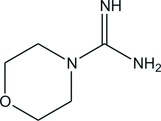 Experimental
Data collection: COLLECT (Hooft, 2004

); cell refinement: SCALEPACK (Otwinowski & Minor, 1997

); data reduction: SCALEPACK; program(s) used to solve structure: SHELXS97 (Sheldrick, 2008

); program(s) used to refine structure: SHELXL97 (Sheldrick, 2008

); molecular graphics: DIAMOND (Brandenburg & Putz, 2005

); software used to prepare material for publication: SHELXL97.
---
Supplementary data and figures for this paper are available from the IUCr electronic archives (Reference: ZL2510 ).
---
The author thanks Dr F. Lissner (Institut für Anorganische Chemie, Universität Stuttgart) for the data collection.
Brandenburg, K. & Putz, H. (2005). DIAMOND. Crystal Impact GbR, Bonn, Germany.
Dräger, G., Solodenko, W., Messinger, J., Schön, U. & Kirschning, A. (2002). Tetrahedron Lett. 43, 1401-1403.
Hooft, R. W. W. (2004). COLLECT. Nonius BV, Delft, The Netherlands.
Otwinowski, Z. & Minor, W. (1997). Methods in Enzymology, Vol. 276, Macromolecular Crystallography, Part A, edited by C. W. Carter Jr & R. M. Sweet, pp. 307-326. New York: Academic Press.
Sheldrick, G. M. (2008). Acta Cryst. A64, 112-122.



Zhou, W. Q., Zhu, L. M., Cao, Zh. B., Zhang, Y., Lu, W. D. & Lu, L. D. (2003). J. Mol. Struct. 565, 405-411.