Related literature
For biological activity of inhibitors for the microsomal prostaglandin E2 synthase-1 (mPGES-1) and 5-lipoxygenase (5-LO), see: Elkady et al. (2012

). For details of the synthesis, see: Maguire et al. (2001

).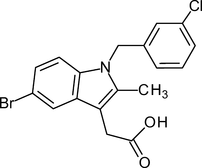 Experimental
Data collection: X-AREA (Stoe & Cie, 2010

); cell refinement: X-AREA; data reduction: X-RED (Stoe & Cie, 2010

); program(s) used to solve structure: SIR97 (Altomare et al., 1999

); program(s) used to refine structure: SHELXL97 (Sheldrick, 2008

); molecular graphics: PLATON (Spek, 2009

); software used to prepare material for publication: PLATON.
---
Supplementary data and figures for this paper are available from the IUCr electronic archives (Reference: BT6855 ).
---
This research was supported financially by the Landesgraduiertenförderung program of the Ministry of Science, Research and Arts of the state of Baden-Württemberg, Germany.
Altomare, A., Burla, M. C., Camalli, M., Cascarano, G. L., Giacovazzo, C., Guagliardi, A., Moliterni, A. G. G., Polidori, G. & Spagna, R. (1999). J. Appl. Cryst. 32, 115-119.





Elkady, M., Niess, R., Schaible, A. M., Bauer, J., Luderer, S., Ambrosi, G., Werz, O. & Laufer, S. A. (2012). J. Med. Chem. 55, 8958-8962.




Maguire, A. R., Plunkett, S. J., Papot, S., Clynes, M., O'Connor, R. & Touhey, S. (2001). Bioorg. Med. Chem. 9, 745-762.




Sheldrick, G. M. (2008). Acta Cryst. A64, 112-122.



Spek, A. L. (2009). Acta Cryst. D65, 148-155.




Stoe & Cie (2010). X-AREA and X-RED. Stoe & Cie GmbH, Darmstadt, Germany.