---

Volume 68
Part 12
Pages m1503-m1504
December 2012
Received 10 September 2012
Accepted 6 November 2012
Online 17 November 2012
Key indicators
Single-crystal X-ray study
T = 293 K
Mean

(C-C) = 0.005 Å
R = 0.036
wR = 0.086
Data-to-parameter ratio = 13.2
Details

-2,5-Dihydroxyterephthalato-bis[triaqua(1,10-phenanthroline)zinc] dihydroxyterephthalate

aDepartment of Information & Technology, Jilin Normal University, Siping 136000, People's Republic of China, and bDepartment of Chemistry, Jilin Normal University, Siping 136000, People's Republic of China
Correspondence e-mail: chuanbl@gmail.com
In the title compound, [Zn2(C8H4O6)(C12H8N2)2(H2O)6](C8H4O6), the complete ions of both the binuclear dication and the dianion are generated by crystallographic inversion symmetry. The Zn atom is bonded to an N,N'-bidentate phenanthroline ligand, three water moleules and an O-monodenate 2,5-dihydroxyterephthalate dianion. In the resulting distorted octahedral ZnN2O4 coordination polyhedron, the water O atoms are in a mer orientation. Two intramolecular O-H

O hydrogen bonds occur in the bridging 2,5-dihydroxyterephthalate dianion within the complex cation and also in the free dianion. An intramolecular Ow-H

O (w = water) hydrogen bond also occurs within the dication. In the crystal, O-H

O hydrogen bonds link the component ions into a three-dimensional network.
Related literature
For a related structure, see: Sun et al. (2007

). For background to the applications of coordination polymers, see: Perry et al. (2009

).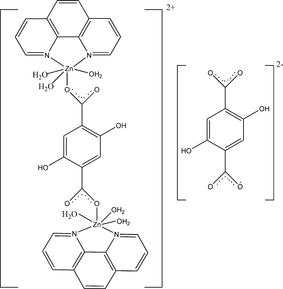 Experimental
Data collection: APEX2 (Bruker, 2002

); cell refinement: SAINT (Bruker, 2002

); data reduction: SAINT; program(s) used to solve structure: SHELXTL (Sheldrick, 2008

); program(s) used to refine structure: SHELXL97 (Sheldrick, 2008

); molecular graphics: DIAMOND (Brandenburg, 1999

); software used to prepare material for publication: SHELXTL.
---
Supplementary data and figures for this paper are available from the IUCr electronic archives (Reference: HB6960 ).
---
Acknowledgements
The authors thank Jilin Normal University for supporting this study.
Brandenburg, K. (1999). DIAMOND. Crystal Impact BbR, Bonn, Germany.
Bruker (2002). APEX2, SAINT and SADABS. Bruker AXS Inc., Madison, Wisconsin, USA.
Perry, J. J. IV, Perman, J. A. & Zaworotko, M. J. (2009). Chem. Soc. Rev. 38, 1400-1417.




Sheldrick, G. M. (2008). Acta Cryst. A64, 112-122.



Sun, Y. G., Gao, E. J. & Wei, D. Z. (2007). Inorg. Chem. Commun. 10, 467-470.