---

Volume 68
Part 12
Page o3371
December 2012
Received 10 November 2012
Accepted 11 November 2012
Online 17 November 2012
Key indicators
Single-crystal X-ray study
T = 298 K
Mean

(C-C) = 0.002 Å
R = 0.036
wR = 0.107
Data-to-parameter ratio = 14.2
Details

1-(2-Amino-6-methylpyrimidin-4-yl)-N,N-dimethylpiperidin-4-aminium chloride

aDepartment of Studies and Research in Chemistry, Tumkur University, Tumkur, Karnataka 572 103, India,bDepartment of Studies and Research in Chemistry, U.C.S., Tumkur University, Tumkur, Karnataka 572 103, India,cCentre of Advanced Study in Crystallography and Biophysics, University of Madras Guindy Campus, Chennai 600 025, India, and dDepartment of Studies and Research in Physics, U.C.S., Tumkur University, Tumkur, Karnataka 572 103, India
Correspondence e-mail: drsreenivasa@yahoo.co.in
In the title molecular salt, C12H22N5+·Cl-, the cation is protonated at the dimethyl-substituted tertiary N atom. The piperidine ring adopts a chair conformation with the exocyclic N-C bond in an equatorial orientation. The dihedral angle between the piperidine ring (all atoms) and the pyrimidine ring is 14.00 (1)°. In the crystal, the ions are connected by N-H

N hydrogen bonds, forming inversion dimers, which are further connected by N-H

Cl hydrogen bonds. Aromatic

-

stacking interactions [centroid-centroid separation = 3.4790 (9) Å] are also observed in the structure.
Related literature
For background to pyrimidine derivatives and their biological activity, see: Patel et al. (2003

).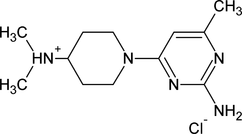 Experimental
Data collection: APEX2 (Bruker, 2004

); cell refinement: SAINT-Plus (Bruker, 2004

); data reduction: SAINT-Plus; program(s) used to solve structure: SHELXS97 (Sheldrick, 2008

); program(s) used to refine structure: SHELXL97 (Sheldrick, 2008

); molecular graphics: ORTEP-3 (Farrugia, 2012

); software used to prepare material for publication: SHELXL97.
---
Supplementary data and figures for this paper are available from the IUCr electronic archives (Reference: HB6988 ).
---
Acknowledgements
The authors thank Dr S. C. Sharma, Vice Chancellor, Tumkur University, Tumkur, for his constant encouragement. BSPM thanks Dr H. C. Devarajegowda, Department of Physics, Yuvarajas College (constituent), University of Mysore, for his support and guidence.
Bruker (2004). APEX2, SAINT-Plus and SADABS. Bruker AXS Inc., Madison, Wisconsin, USA.
Farrugia, L. J. (2012). J. Appl. Cryst. 45, 849-854.





Patel, R., Desai, K. & Chikhalia, K. (2003). J. Indian Chem. Soc. 80, 138-145.


Sheldrick, G. M. (2004). SADABS. University of Göttingen, Germany.
Sheldrick, G. M. (2008). Acta Cryst. A64, 112-122.