Related literature
For a related structure, see: Jamal et al. (2011

). For background to Schiff bases, see: Chaluvaraju & Zaranappa (2011

); Khan et al. (2009

).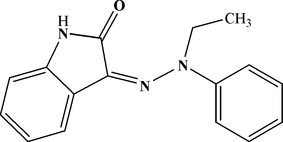 Experimental
Data collection: SMART (Bruker, 2000

); cell refinement: SAINT (Bruker, 2000

); data reduction: SAINT; program(s) used to solve structure: SHELXS97 (Sheldrick, 2008

); program(s) used to refine structure: SHELXL97 (Sheldrick, 2008

); molecular graphics: SHELXTL (Sheldrick, 2008

); software used to prepare material for publication: SHELXL97.
---
Supplementary data and figures for this paper are available from the IUCr electronic archives (Reference: HB6996 ).
---
The authors are thankful to the Higher Education Commission (HEC) Pakistan for financial support under the National Research Grants Program for Universities (grant No. 20-1862/R&D/10).
Bruker (2000). SADABS, SMART and SAINT. Bruker AXS Inc., Madison, Wisconsin, USA.
Chaluvaraju, K. C. & Zaranappa (2011). Res. J. Pharm. Biol. Chem. Sci. 2, 541-546.
Jamal, R. A., Ashiq, U., Yousuf, S. & Ain, Q. ul (2011). Acta Cryst. E67, o2166.




Khan, K. M., Khan, M., Ali, M., Taha, M., Rasheed, S., Perveen, S. & Choudhary, M. I. (2009). Bioorg. Med. Chem. 17, 7795-7801.




Sheldrick, G. M. (2008). Acta Cryst. A64, 112-122.