---

Volume 68
Part 12
Page o3370
December 2012
Received 14 October 2012
Accepted 8 November 2012
Online 17 November 2012
Key indicators
Single-crystal X-ray study
T = 293 K
Mean

(C-C) = 0.003 Å
R = 0.042
wR = 0.129
Data-to-parameter ratio = 17.5
Details

6-[4-Chloro-2-(trifluoromethyl)phenyl]-3-fluoro-2-methylpyridine

aDepartment of Studies and Research in Chemistry, Tumkur University, Tumkur, Karnataka 572 103, India,bDepartment of Studies and Research in Chemistry, U.C.S, Tumkur University, Tumkur, Karnataka 572 103, India,cDepartment of Studies and Research in Physics, U.C.S., Tumkur University, Tumkur, Karnataka 572 103, India, and dCentre of Advanced Study in Crystallography and Biophysics, University of Madras Guindy Campus, Chennai 600 025, India
Correspondence e-mail: drsreenivasa@yahoo.co.in
In the title compound, C13H8ClF4N, the dihedral angle between the benzene and pyridine rings is 59.8 (3)°. In the crystal, molecules are stacked in columns along the b axis through weak C-H


interactions.
Related literature
For the biological activity of pyridine derivatives, see: Patrick & Kinsmar (1996

); Hishmat et al. (1990

); Doshi et al. (1999

); Bhatt et al. (2001

).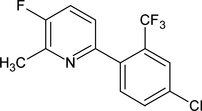 Experimental
Data collection: APEX2 (Bruker, 2004

); cell refinement: SAINT-Plus (Bruker, 2004

); data reduction: SAINT-Plus; program(s) used to solve structure: SHELXS97 (Sheldrick, 2008

); program(s) used to refine structure: SHELXL97 (Sheldrick, 2008

); molecular graphics: ORTEP-3 (Farrugia, 2012

); software used to prepare material for publication: SHELXL97.
---
Supplementary data and figures for this paper are available from the IUCr electronic archives (Reference: IS5209 ).
---
Acknowledgements
Authors thank Dr. S. C. Sharma, Vice Chancellor, Tumkur University, Tumkur for his constant encouragement and G·B. Sadananda, Department of Studies and Research in Physics, U.C.S. Tumkur University, Tumkur, for his help and valuable suggestions. BSP thanks Dr. H. C. Devaraje Gowda, Department of Physics, Yuvarajas College (constituent), University of Mysore for his guidance.
Bhatt, A. H., Parekh, M. H., Parikh, K. A. & Parikh, A. R. (2001). J. Indian Chem. Soc. 40, 57-21.
Bruker (2004). APEX2 and SAINT-Plus. Bruker AXS Inc., Madison, Wisconsin, USA.
Doshi, R., Kagthara, P. & Parekh, H. (1999). Indian J. Chem. 38, 348-352.
Farrugia, L. J. (2012). J. Appl. Cryst. 45, 849-854.





Hishmat, O. H., Abdel Galil, F. M. & Farrag, D. S. (1990). Pharmazie, 45, 793-795.



Patrick, G. L. & Kinsmar, O. S. (1996). Eur. J. Med. Chem. 31, 615-624.




Sheldrick, G. M. (2008). Acta Cryst. A64, 112-122.