Related literature
For the synthesis and crystal structures of guanidinium hydrogen carbonates, see: Tiritiris et al. (2011

). For the crystal structure of 4-morpholinecarboxamidine, see: Tiritiris (2012a

). For the crystal structure of piperidine-1-carboxamidinium ethyl carbonate, see: Tiritiris (2012b

).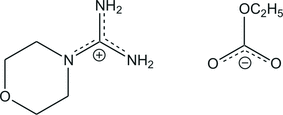 Experimental
Data collection: COLLECT (Hooft, 2004

); cell refinement: SCALEPACK (Otwinowski & Minor, 1997

); data reduction: SCALEPACK; program(s) used to solve structure: SHELXS97 (Sheldrick, 2008

); program(s) used to refine structure: SHELXL97 (Sheldrick, 2008

); molecular graphics: DIAMOND (Brandenburg & Putz, 2005

); software used to prepare material for publication: SHELXL97.
---
Supplementary data and figures for this paper are available from the IUCr electronic archives (Reference: KP2441 ).
---
The author thanks Dr F. Lissner (Institut für Anorganische Chemie, Universität Stuttgart) for the data collection.
Brandenburg, K. & Putz, H. (2005). DIAMOND. Crystal Impact GbR, D-53002 Bonn, Germany.
Hooft, R. W. W. (2004). COLLECT. Bruker-Nonius BV, Delft, The Netherlands.
Otwinowski, Z. & Minor, W. (1997). Methods in Enzymology, Vol. 276, Macromolecular Crystallography, Part A, edited by C. W. Carter Jr & R. M. Sweet, pp. 307-326. New York: Academic Press.
Sheldrick, G. M. (2008). Acta Cryst. A64, 112-122.



Tiritiris, I. (2012a). Acta Cryst. E68, o3118.




Tiritiris, I. (2012b). Acta Cryst. E68, o3310.



Tiritiris, I., Mezger, J., Stoyanov, E. V. & Kantlehner, W. (2011). Z. Naturforsch. Teil B, 66, 407-418.