Related literature
Hydrogen-bonding packing patterns of primary amides are discussed by Eccles et al. (2011

) and McMahon et al. (2005

). A description of the Cambridge Crystallographic Database is given by Allen (2002

). The question of the occurrence of very bent, intramolecular C-H

O hydrogen bonds has been discussed by Desiraju (1996

).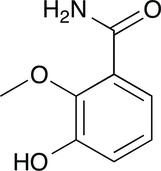 Experimental
Data collection: APEX2 (Bruker, 2010

); cell refinement: SAINT (Bruker, 2010

); data reduction: SAINT; program(s) used to solve structure: SHELXS97 (Sheldrick, 2008

); program(s) used to refine structure: SHELXL97 (Sheldrick, 2008

); molecular graphics: DIAMOND (Brandenburg, 2012

); software used to prepare material for publication: SHELXL97.
---
Supplementary data and figures for this paper are available from the IUCr electronic archives (Reference: LD2083 ).
---
We thank Dr Volker Huch (Universität des Saarlandes) for the data collection.
Allen, F. H. (2002). Acta Cryst. B58, 380-388.




Brandenburg, K. (2012). DIAMOND. Crystal Impact GbR, Bonn, Germany.
Bruker (2010). APEX2, SAINT and SADABS. Bruker AXS Inc., Madison, Wisconsin, USA.
Desiraju, G. R. (1996). Acc. Chem. Res. 29, 441-449.




Eccles, K. S., Elcoate, C. J., Maguire, A. R. & Lawrence, S. E. (2011). Cryst. Growth Des. 11, 4433-4439.



McMahon, J. A., Bis, J. A., Vishweshwar, P., Shattock, T. R., McLaughlin, O. L. & Zaworotko, M. J. (2005). Z. Kristallogr. 220, 340-350.



Sheldrick, G. M. (2008). Acta Cryst. A64, 112-122.