---

Volume 68
Part 12
Page o3345
December 2012
Received 26 October 2012
Accepted 8 November 2012
Online 14 November 2012
Key indicators
Single-crystal X-ray study
T = 293 K
Mean

(C-C) = 0.003 Å
R = 0.045
wR = 0.128
Data-to-parameter ratio = 18.4
Details

4'-Methyl-14',19'-dioxa-4'-azaspiro[acenaphthylene-1,5'-tetracyclo[18.4.0.02,6.08,13]tetracosane]-1'(24'),8',10',12',20',22'-hexaene-2,7'(1H)-dione

aCentre of Advanced Study in Crystallography and Biophysics, University of Madras, Guindy Campus, Chennai 600 025, India, and bDepartment of Organic Chemistry, University of Madras, Guindy Campus, Chennai 600 025, India
Correspondence e-mail: shirai2011@gmail.com
In the title compound, C33H29NO4, the acenaphthylene ring system is essentially planar (r.m.s. deviation = 0.0290 Å). The pyrrolidine ring adopts a C-envelope conformation with a C atom displaced by 0.671 (2) Å from the mean-plane formed by the remaining ring atoms. The pyrrolidine ring is fused to acenaphthylene ring system making a dihedral angle of 88.0 (7)°. In the crystal, molecules are linked into R22(9) dimers via C-H

N and C-H

O hydrogen bonds. Two C atoms act as donors to the same O atom acceptor, resulting in the formation of R21(7) ring motifs. These two motifs combine to form hydrogen-bonded sheets running along the a- and b-axis directions.
Related literature
For background to natural and synthetic pharmacologically active pyrrolidines, see: Waldmann (1995

). For related structures, see: Augustine et al. (2010

); Narayanan et al. (2012

). For graph-set motifs, see: Bernstein et al. (1995

).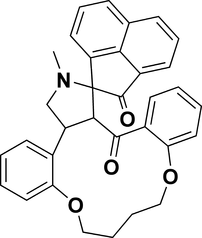 Experimental
Data collection: APEX2 (Bruker, 2008

); cell refinement: SAINT (Bruker, 2008

); data reduction: SAINT; program(s) used to solve structure: SHELXS97 (Sheldrick, 2008

); program(s) used to refine structure: SHELXL97 (Sheldrick, 2008

); molecular graphics: ORTEP-3 (Farrugia, 2012

); software used to prepare material for publication: SHELXL97 and PLATON (Spek, 2009

).
---
Supplementary data and figures for this paper are available from the IUCr electronic archives (Reference: PV2602 ).
---
Acknowledgements
The authors thank the TBI X-ray facility, CAS in Crystallography and Biophysics, University of Madras, India, for the data collection. SN thanks the University Grant Commission (UGC), Government of India, New Delhi, for a Meritorious Fellowship under the SAP programme.
Augustine, T., Vithiya, S. M., Ignacimuthu, S. & Ramkumar, V. (2010). Acta Cryst. E66, o3002.




Bernstein, J., Davis, R. E., Shimoni, L. & Chang, N.-L. (1995). Angew. Chem. Int. Ed. Engl. 34, 1555-1573.




Bruker (2008). APEX2, SAINT and SADABS. Bruker AXS Inc., Madison, Wisconsin, USA.
Farrugia, L. J. (2012). J. Appl. Cryst. 45, 849-854.





Narayanan, S., Srinivasan, T., Purushothaman, S., Raghunathan, R. & Velmurugan, D. (2012). Acta Cryst. E68, o3345.



Sheldrick, G. M. (2008). Acta Cryst. A64, 112-122.



Spek, A. L. (2009). Acta Cryst. D65, 148-155.




Waldmann, H. (1995). Synlett, pp. 133-141.