---

Volume 68
Part 12
Page o3458
December 2012
Received 2 November 2012
Accepted 22 November 2012
Online 28 November 2012
Key indicators
Single-crystal X-ray study
T = 298 K
Mean

(C-C) = 0.006 Å
R = 0.041
wR = 0.104
Data-to-parameter ratio = 13.6
Details

[2-(4-Chlorophenyl)-1,3-selenazol-4-yl]methanol

aShandong Provincial Key Laboratory of Chemical Energy Storage, and Novel Cell Technology, School of Chemistry and Chemical Engineering, Liaocheng University, Shandong 252059, People's Republic of China
Correspondence e-mail: jchcui@163.com
In the title compound, C10H8ClNOSe, the dihedral angle between benzene and selenazole rings is 11.4 (3)° and the hydroxymethyl group is bent from the selenazole ring, making a dihedral angle of 63.8 (3)°. In the crystal, molecules are linked into inversion dimers by pairs of O-H

N hydrogen bonds. Roof-tile-like stacking of the molecules along [010] [b = 4.5707 (4) Å] is observed, with the benzene and selenazole rings separated by a face-to-face distance of 3.57 Å and a mutual slippage of 2.85 Å.
Related literature
For the synthesis of 1,3-selenazoles and their biological activity, see: Shafiee et al. (1979

); Koketsu & Ishihara (2003

); Geisler et al. (2004

). For crystal structures of 1,3-selenazole derivatives, see: Shen et al. (2011

); Shi & Zhao, (2007

).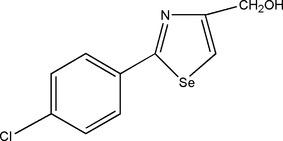 Experimental
Data collection: SMART (Bruker, 2007

); cell refinement: SAINT (Bruker, 2007

); data reduction: SAINT; program(s) used to solve structure: SHELXS97 (Sheldrick, 2008

); program(s) used to refine structure: SHELXL97 (Sheldrick, 2008

); molecular graphics: SHELXTL (Sheldrick, 2008

); software used to prepare material for publication: SHELXTL.
---
Supplementary data and figures for this paper are available from the IUCr electronic archives (Reference: QK2047 ).
---
We acknowledge the National Natural Foundation of China (21105042), the National Basic Research Program (2010CB234601) and the Natural Science Foundation of Shandong Province (ZR2011BM007, ZR2010BQ021) for financial support.
Bruker (2007). SMART, SAINT and SADABS. Bruker AXS Inc., Madison, Wisconsin, USA.
Geisler, K., Künzler, A., Below, H., Bulka, E., Pfeiffer, W.-D. & Langer, P. (2004). Synthesis, pp. 97-105.


Koketsu, M. & Ishihara, H. (2003). Curr. Org. Chem. 7, 175-185.




Shafiee, A., Mazloumi, A. & Cohen, V. I. (1979). J. Heterocycl. Chem. 16, 1563-1566.



Sheldrick, G. M. (2008). Acta Cryst. A64, 112-122.



Shen, J.-B., Lv, X., Chen, J.-F., Zhou, Y.-F. & Zhao, G.-L. (2011). Acta Cryst. E67, o803.




Shi, X. & Zhao, G.-L. (2007). Acta Cryst. E63, o3642.