---

Volume 68
Part 12
Page o3259
December 2012
Received 25 October 2012
Accepted 28 October 2012
Online 3 November 2012
Key indicators
Single-crystal X-ray study
T = 100 K
Mean

(C-C) = 0.002 Å
R = 0.034
wR = 0.097
Data-to-parameter ratio = 14.4
Details

3-Benzoyl-1-(2-methoxyphenyl)thiourea

aDepartment of Chemistry, National Institute of Technology, Tiruchirappalli 620 015, India,bDepartment of Chemistry, University of Malaya, 50603 Kuala Lumpur, Malaysia, and cChemistry Department, Faculty of Science, King Abdulaziz University, PO Box 80203 Jeddah, Saudi Arabia
Correspondence e-mail: edward.tiekink@gmail.com
In the title compound, C15H14N2O2S, the central C2N2OS moiety is planar (r.m.s. deviation of fitted atoms = 0.0336 Å). This is ascribed to the formation of an S(6) loop stabilized by an intramolecular N-H

O hydrogen bond; additional intramolecular N-H

O and C-H

S contacts are also noted. The dihedral angles between the central unit and the phenyl and benzene rings are 23.79 (7) and 29.52 (5)°, respectively. The thione S and ketone O atoms are mutually anti, as are the N-H H atoms; the O atoms lie to the same side of the molecule. Centrosymmetric eight-membered {

HNC=S}2 synthons feature in the crystal packing. The resulting inversion dimers stack along the a axis and are connected into a three-dimensional structure by C-H

O and C-H


interactions.
Related literature
For complexation of N-benzoyl-N'-arylthiourea derivatives to transition metals, see: Selvakumaran et al. (2011

). For the structure of the unsubstituted parent compound, see: Yamin & Yusof (2003

).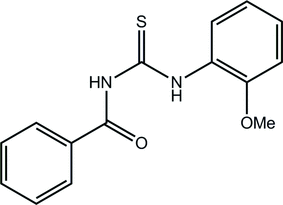 Experimental
Data collection: CrysAlis PRO (Agilent, 2012

); cell refinement: CrysAlis PRO; data reduction: CrysAlis PRO; program(s) used to solve structure: SHELXS97 (Sheldrick, 2008

); program(s) used to refine structure: SHELXL97 (Sheldrick, 2008

); molecular graphics: ORTEP-3 for Windows (Farrugia, 1997

) and DIAMOND (Brandenburg, 2006

); software used to prepare material for publication: publCIF (Westrip, 2010

).
---
Supplementary data and figures for this paper are available from the IUCr electronic archives (Reference: SU2519 ).
---
Acknowledgements
NS thanks NITT for a fellowship. The authors also thank the Ministry of Higher Education (Malaysia) for funding structural studies through the High-Impact Research scheme (UM.C/HIR-MOHE/SC/12).
Agilent (2012). CrysAlis PRO. Agilent Technologies, Yarnton, England.
Brandenburg, K. (2006). DIAMOND. Crystal Impact GbR, Bonn, Germany.
Farrugia, L. J. (1997). J. Appl. Cryst. 30, 565.



Selvakumaran, N., Ng, S. W., Tiekink, E. R. T. & Karvembu, R. (2011). Inorg. Chim. Acta, 376, 278-284.





Sheldrick, G. M. (2008). Acta Cryst. A64, 112-122.



Westrip, S. P. (2010). J. Appl. Cryst. 43, 920-925.





Yamin, B. M. & Yusof, M. S. M. (2003). Acta Cryst. E59, o151-o152.