Related literature
For uses of imidazolidine-bridged bis(phenol) derivatives in coordination chemistry, see: Xu et al. (2007

). For related structures, see: Yang et al. (2009

); Xia et al. (2007

). For standard bond lengths, see: Allen et al. (1987

). For ring conformations, see: Cremer & Pople (1975

).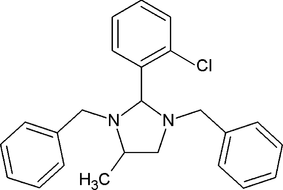 Experimental
Data collection: CrysAlis PRO (Agilent, 2010

); cell refinement: CrysAlis PRO; data reduction: CrysAlis PRO; program(s) used to solve structure: SUPERFLIP (Palatinus & Chapuis, 2007

); program(s) used to refine structure: JANA2006 (Petrícek et al., 2006

); molecular graphics: DIAMOND (Brandenburg & Putz, 2005

); software used to prepare material for publication: JANA2006.
---
Supplementary data and figures for this paper are available from the IUCr electronic archives (Reference: SU2527 ).
---
We acknowledge the Dirección de Investigaciones, Sede Bogotá (DIB) de la Universidad Nacional de Colombia, for financial support of this work, as well as the Institutional research plan (No. AVOZ10100521) of the Institute of Physics. VE and MD acknowledge the suport provided by the project Praemium Academiae of the Academy of Sciences (ASCR), Czech Republic.
Agilent (2010). CrysAlis PRO. Agilent Technologies, Yarnton, England.
Allen, F. H., Kennard, O., Watson, D. G., Brammer, L., Orpen, A. G. & Taylor, R. (1987). J. Chem. Soc. Perkin Trans. 2, pp. S1-19.
Brandenburg, K. & Putz, H. (2005). DIAMOND. Crystal Impact, Bonn, Germany.
Cremer, D. & Pople, J. A. (1975). J. Am. Chem. Soc. 97, 1354-1358.




Palatinus, L. & Chapuis, G. (2007). J. Appl. Cryst. 40, 786-790.





Petrícek, V., Dusek, M. & Palatinus, L. (2006). JANA2006. Institute of Physics, Praha, Czech Republic.
Xia, H.-T., Liu, Y.-F., Wang, D.-Q. & Li, B. (2007). Acta Cryst. E63, o3666.



Xu, X., Yao, Y., Zhang, Y. & Shen, Q. (2007). Inorg. Chem. 46, 3743-3751.






Yang, S.-P., Han, L.-J., Wen, A.-P. & Wang, D.-Q. (2009). Acta Cryst. E65, o3049.