---

Volume 68
Part 12
Pages m1497-m1498
December 2012
Received 30 October 2012
Accepted 10 November 2012
Online 17 November 2012
Key indicators
Single-crystal X-ray study
T = 273 K
Mean

(C-C) = 0.009 Å
R = 0.075
wR = 0.154
Data-to-parameter ratio = 10.9
Details

Dipyridinium diaquabis(pyrazole-3,5-dicarboxylato-2N,O)cuprate(II) dihydrate

aState Key Laboratory Breeding Base of Humid Subtropical Mountain Ecology, College of Geographical Sciences, Fujian Normal University, Fuzhou 350007, People's Republic of China, and bUniversité Européenne de Bretagne, Université de Bretagne Occidentale, CS 93837, 29238 Brest Cedex 3, France
Correspondence e-mail: siyoutao@hotmail.com
In the mononuclear title salt, (C5H6N)2[Cu(C5H2N2O4)2(H2O)2]·2H2O, the CuII ion is located on an inversion centre and is coordinated by two chelating pyrazole-3,5-dicarboxylate anions and two water molecules, forming a Jahn-Teller-distorted CuN2O4 octahedron. O-H

O and N-H

O hydrogen bonds are formed between water molecules, complex anions and the pyridine counter-cations, leading to the formation of layers parallel to (100). The layers are held together by weak C-H

O hydrogen bonds.
Related literature
For more information on ligands derived from pyrazole-3,5-dicarboxylic acid, see: King et al. (2004

). For the bond-valence method, see: Brown (2002

).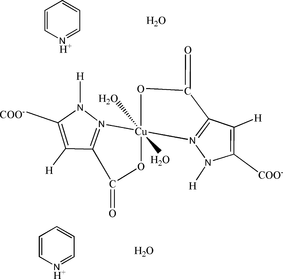 Experimental
Data collection: SMART (Siemens, 1998

); cell refinement: SAINT (Siemens, 1998

); data reduction: SAINT; program(s) used to solve structure: SHELXS97 (Sheldrick, 2008

); program(s) used to refine structure: SHELXL97 (Sheldrick, 2008

); molecular graphics: WinGX (Farrugia, 2012

); software used to prepare material for publication: publCIF (Westrip, 2010

).
---
Supplementary data and figures for this paper are available from the IUCr electronic archives (Reference: WM2698 ).
---
Acknowledgements
The author thanks the Centre Nationale de la Recherche Scientique (CNRS) for financial support.
Brown, I. D. (2002). In The Chemical Bond in Inorganic Chemistry: The Bond Valence Model. Oxford University Press.
Farrugia, L. J. (2012). J. Appl. Cryst. 45, 849-854.





King, P., Clérac, R., Anson, C. E. & Powell, A. K. (2004). Dalton Trans. pp. 852-861.



Sheldrick, G. M. (1996). SADABS. University of Göttingen, Germany.
Sheldrick, G. M. (2008). Acta Cryst. A64, 112-122.



Siemens (1998). SMART and SAINT. Siemens Analytical X-ray Instruments Inc., Madison, Wisconsin, USA.
Westrip, S. P. (2010). J. Appl. Cryst. 43, 920-925.