---

Volume 68
Part 12
Pages m1548-m1549
December 2012
Received 27 October 2012
Accepted 18 November 2012
Online 28 November 2012
Key indicators
Single-crystal X-ray study
T = 100 K
Mean

(C-C) = 0.006 Å
Disorder in main residue
R = 0.054
wR = 0.147
Data-to-parameter ratio = 19.0
Details

Di-3-acetato-bis{-6,6'-diethoxy-2,2'-[propane-1,2-diylbis(nitrilomethanylylidene)]diphenolato}dicadmiumdisodium ethanol 0.67-solvate

In the crystal of the title compound, [Cd2Na2(C2H3O2)2(C21H24N2O4)2]·0.67C2H6O, the doubly deprotonated Schiff base ligand N,N',O,O'-chelates to the CdII cation, which is also O,O'-chelated by the acetate ion. Two Cd-Schiff base units are connected to two Na+ atoms to form the tetranuclear complex, in which the Cd2+ and Na+ cations show distorted octahedral coordinations. The asymmetric unit consists of half a tetranuclear molecule (lying on an inversion center) and a full tetranuclear molecule (lying on a general position) along with a lattice ethanol molecule, which links to the coordinating acetate ion via an O-H

O hydrogen bond. In the crystal, the propyl and ethyl groups of the complex molecule are disordered over two positions in a 1:1 ratio; the ethyl group of the lattice ethanol molecule is also equally disordered over two positions.
Related literature
For the synthesis and structure of the Schiff base ligand, see: Fun et al. (2009

); Jia (2009

).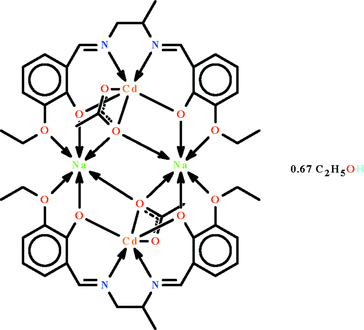 Experimental
Data collection: APEX2 (Bruker, 2009

); cell refinement: SAINT (Bruker, 2009

); data reduction: SAINT; program(s) used to solve structure: SHELXS97 (Sheldrick, 2008

); program(s) used to refine structure: SHELXL97 (Sheldrick, 2008

); molecular graphics: X-SEED (Barbour, 2001

); software used to prepare material for publication: publCIF (Westrip, 2010

).
---
Supplementary data and figures for this paper are available from the IUCr electronic archives (Reference: XU5642 ).
---
Acknowledgements
The author thanks Dr Kong Mun Lo for providing the crystal, and the Ministry of Higher Education of Malaysia (grant No. UM.C/HIR/MOHE/SC/12) for supporting this study.
Barbour, L. J. (2001). J. Supramol. Chem. 1, 189-191.



Bruker (2009). APEX2 and SAINT. Bruker AXS Inc., Madison, Wisconsin, USA.
Fun, H.-K., Kia, R., Kargar, H. & Jamshidvand, A. (2009). Acta Cryst. E65, o722-o723.




Jia, Z. (2009). Acta Cryst. E65, o646.




Sheldrick, G. M. (1996). SADABS. University of Göttingen, Germany.
Sheldrick, G. M. (2008). Acta Cryst. A64, 112-122.



Westrip, S. P. (2010). J. Appl. Cryst. 43, 920-925.