---

Volume 69
Part 1
Pages o54-o55
January 2013
Received 28 November 2012
Accepted 30 November 2012
Online 8 December 2012
Key indicators
Single-crystal X-ray study
T = 173 K
Mean

(C-C) = 0.004 Å
Disorder in main residue
R = 0.053
wR = 0.118
Data-to-parameter ratio = 13.6
Details

(Z)-Ethyl 2-hydroxy-4-oxo-4-(1,4,5,6,8-pentamethoxynaphthalen-2-yl)but-2-enoate

The title compound, C21H24O9, crystallizes with two independent molecules in the asymmetric unit which are almost centrosymmetrically related to each other. The ethanoate group in one of the two molecules is disordered over two positions with a site-occupation factor of 0.880 (7) for the major occupied site. In the crystal, the 1,3-diketone group exists in the keto-enol isomeric form due to the stabilizing effect of the intramolecular O-H

O hydrogen bond present in this form. The compound packs as a layered structure in which C-H


and C-H

O interactions are present within and between the layers.
Related literature
For the synthesis of the title compound, see: de Koning et al. (1991

). This forms part of our research programme directed towards the synthesis of the natural phytotoxic naphthoquinone, marticin, see: Pillay et al. (2012

).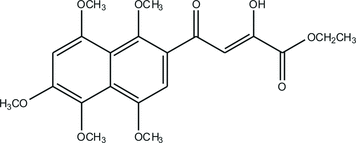 Experimental
Data collection: APEX2 (Bruker, 2005

); cell refinement: SAINT-NT (Bruker, 2005

); data reduction: SAINT-NT; program(s) used to solve structure: SHELXS97 (Sheldrick, 2008

); program(s) used to refine structure: SHELXL97 (Sheldrick, 2008

); molecular graphics: PLATON (Spek, 2009

) and SCHAKAL99 (Keller, 1999

); software used to prepare material for publication: WinGX (Farrugia, 1999

) and PLATON.
---
Supplementary data and figures for this paper are available from the IUCr electronic archives (Reference: BT6876 ).
---
Acknowledgements
This work was supported by SABINA (Southern African Biochemistry and Informatics for Natural Products Network), the National Research Foundation [NRF, GUN 2053652 and IRDP of the NRF (South Africa) for financial support provided by the Research Niche Areas programme], Pretoria, and the University of the Witwatersrand (Science Faculty Research Council).
Bruker (2005). APEX2 and SAINT-NT (includes XPREP and SADABS). Bruker AXS Inc., Madison, Wisconsin, USA.
Farrugia, L. J. (1999). J. Appl. Cryst. 32, 837-838.




Keller, E. (1999). SCHAKAL99. University of Freiberg, Germany.
Koning, C. B. de, Giles, R. G. F. & Green, I. R. (1991). J. Chem. Soc. Perkin Trans. 1, pp. 2743-2748.
Pillay, A., Rousseau, A. L., Fernandes, M. A. & de Koning, C. B. (2012). Tetrahedron, 68, 7116-7121.





Sheldrick, G. M. (2008). Acta Cryst. A64, 112-122.



Spek, A. L. (2009). Acta Cryst. D65, 148-155.