---

Volume 69
Part 1
Page o21
January 2013
Received 26 November 2012
Accepted 28 November 2012
Online 5 December 2012
Key indicators
Single-crystal X-ray study
T = 173 K
Mean

(C-C) = 0.002 Å
R = 0.037
wR = 0.098
Data-to-parameter ratio = 19.7
Details

(±)-3-Benzyloxy-1-(4-methoxybenzyl)piperidine-2-thione

The title molecule, C20H23NO2S, adopts a twisted conformation in which the two aromatic rings connected to the central piperidine ring are orientated trans to each other. An intramolecular C-H

S contact occurs. In the crystal, C-H


and C-H

O interactions act to stabilize the structure in three dimensions.
Related literature
For the use of related piperidinethiones in the synthesis of febrifugine analogues, see: Michael et al. (2006

). For information on the biological activity of febrifugine, see: Murata et al. (1998

).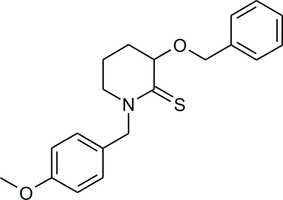 Experimental
Data collection: APEX2 (Bruker, 2005

); cell refinement: SAINT-NT (Bruker, 2005

); data reduction: SAINT-NT; program(s) used to solve structure: SHELXS97 (Sheldrick, 2008

); program(s) used to refine structure: SHELXL97 (Sheldrick, 2008

); molecular graphics: ORTEP-3 for Windows (Farrugia, 2012

) and SCHAKAL99 (Keller, 1999

); software used to prepare material for publication: WinGX (Farrugia, 2012

) and PLATON (Spek, 2009

).
---
Supplementary data and figures for this paper are available from the IUCr electronic archives (Reference: GO2079 ).
---
Acknowledgements
This work was supported by the University of the Witwatersrand and the National Research Foundation, Pretoria (grant number 78837).
Bruker (2005). APEX2 and SAINT-NT. Bruker AXS Inc., Madison, Wisconsin, USA.
Farrugia, L. J. (2012). J. Appl. Cryst. 45, 849-854.





Keller, E. (1999). SCHAKAL99. University of Freiberg, Germany.
Michael, J. P., de Koning, C. B. & Pienaar, D. P. (2006). Synlett, pp. 383-386.



Murata, K., Takano, F., Fushiya, S. & Oshima, Y. (1998). J. Nat. Prod. 61, 729-733.





Sheldrick, G. M. (2008). Acta Cryst. A64, 112-122.



Spek, A. L. (2009). Acta Cryst. D65, 148-155.