---

Volume 69
Part 1
Page o36
January 2013
Received 19 November 2012
Accepted 3 December 2012
Online 8 December 2012
Key indicators
Single-crystal X-ray study
T = 293 K
Mean

(C-C) = 0.002 Å
R = 0.043
wR = 0.118
Data-to-parameter ratio = 18.5
Details

6-Phenylbenzo[d]naphtho[2,3-b]thiophene

aCAS in Crystallography and Biophysics, University of Madras, Guindy Campus, Chennai-25, India, and bDepartment of Organic Chemistry, University of Madras, Guindy Campus, Chennai-25, India
Correspondence e-mail: shirai2011@gmail.com
In the title compound, C22H14S, the r.m.s. deviation from the mean plane of the four-fused-ring naphthothiophene unit is 0.056 Å. The dihedral angle between the naphthothiophene plane and the pendant phenyl ring is 67.24 (6)°. In the crystal, weak C-H


and

-

stacking [minimum centroid-centroid separation = 3.7466 (10) Å] interactions are observed, which together lead to (010) sheets.
Related literature
For background to the biological activity of benzothiophene derivatives, see: Isloora et al. (2010

).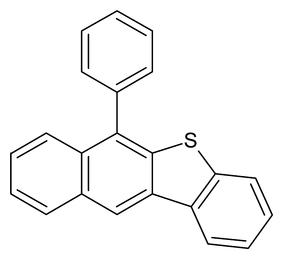 Experimental
Data collection: APEX2 (Bruker, 2008

); cell refinement: SAINT (Bruker, 2008

); data reduction: SAINT; program(s) used to solve structure: SHELXS97 (Sheldrick, 2008

); program(s) used to refine structure: SHELXL97 (Sheldrick, 2008

); molecular graphics: ORTEP-3 (Farrugia, 2012)

; software used to prepare material for publication: SHELXL97 and PLATON (Spek, 2009

).
---
Supplementary data and figures for this paper are available from the IUCr electronic archives (Reference: HB6995 ).
---
Acknowledgements
VS and DV thank the TBI X-ray facility, CAS in Crystallography and Biophysics, University of Madras, India, and the UGC SAP for the facilities to the department.
Bruker (2008). APEX2 and SAINT. Bruker AXS Inc., Madison Wisconsin, USA.
Farrugia, L. J. (2012). J. Appl. Cryst. 45, 849-854.





Isloora, A. M., Kalluraya, B. & Sridhar Pai, K. (2010). Eur. J. Med. Chem. 45, 825-830.



Sheldrick, G. M. (2008). Acta Cryst. A64, 112-122.



Spek, A. L. (2009). Acta Cryst. D65, 148-155.