---

Volume 69
Part 1
Pages o140-o141
January 2013
Received 25 November 2012
Accepted 17 December 2012
Online 22 December 2012
Key indicators
Single-crystal X-ray study
T = 293 K
Mean

(C-C) = 0.002 Å
R = 0.046
wR = 0.126
Data-to-parameter ratio = 19.4
Details

rac-5''-(4-Fluorobenzylidene)-1'-(4-fluorophenyl)-1''-methyl-1',2',3',5',6',7',8',8a'-octahydrodispiro[acenaphthylene-1,3'-indolizine-2',3''-piperidine]-2,4''(1H)-dione

aDepartment of Physics, The Madura College, Madurai 625 011, India,bDepartment of Organic Chemistry, School of Chemistry, Madurai Kamaraj University, Madurai 625 021, India, and cDepartment of Food Science and Technology, University of Ruhuna, Mapalana, Kamburupitiya 81100, Sri Lanka
Correspondence e-mail: plakshmannilantha@ymail.com
In the title E isomer of the racemic compound, C37H32F2N2O2, the pyridinone ring adopts a twisted half-chair conformation with the N atom deviating by -0.355 (3) Å and with the methylene C atom next to octahydroindolizine moiety deviating by 0.415 (3) Å from the mean plane defined by other four atoms. In the octahydroindolizine system, the pyrrolidine ring exhibits an envelope conformation with the fused methyne C atom deviating by 0.6496 (1) Å from the mean plane defined by four other atoms, and the piperidine ring exhibits a distorted chair conformation as evident from the puckering parameters Q = 0.568 (2) Å,

= 1.0 (2) and

= 256 (11)°. In the crystal, C-H

O interactions connect the molecules into chains along [101].
Related literature
For general properties of indolizines, see: Malonne et al. (1998

); Medda et al. (2003

); Pearson & Guo (2001

). For related structures, see: Sussman & Wodak (1973

); Wodak (1975

). For ring conformation analysis, see: Cremer & Pople (1975

).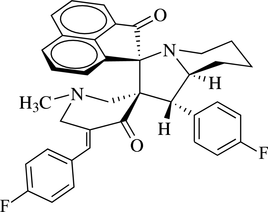 Experimental
Data collection: APEX2 (Bruker, 2004

); cell refinement: SAINT (Bruker, 2004

); data reduction: SAINT; program(s) used to solve structure: SHELXS97 (Sheldrick, 2008

); program(s) used to refine structure: SHELXL97 (Sheldrick, 2008

); molecular graphics: PLATON (Spek, 2009

); software used to prepare material for publication: SHELXL97.
---
Supplementary data and figures for this paper are available from the IUCr electronic archives (Reference: LD2088 ).
---
JS and RAN thank the management of Madura College for their encouragement and support. RRK thanks the DST, New Delhi, for funds under the fast-track scheme (grant No. SR/FT/CS-073/2009).
Bruker (2004). APEX2 and SAINT. Bruker AXS Inc., Madison, Wisconsin, USA.
Cremer, D. & Pople, J. A. (1975). J. Am. Chem. Soc. 97, 1354-1358.




Malonne, H., Hanuise, J. & Fontaine, J. (1998). Pharm. Pharmacol. Commun. 4, 241-243.


Medda, S., Jaisankar, P., Manna, R. K., Pal, B., Giri, V. S. & Basu, M. K. (2003). J. Drug Target. 11, 123-128.




Pearson, W. H. & Guo, L. (2001). Tetrahedron Lett. 42, 8267-8271.




Sheldrick, G. M. (1996). SADABS, University of Göttingen, Germany.
Sheldrick, G. M. (2008). Acta Cryst. A64, 112-122.



Spek, A. L. (2009). Acta Cryst. D65, 148-155.




Sussman, J. L. & Wodak, S. J. (1973). Acta Cryst. B29, 2918-2926.





Wodak, S. J. (1975). Acta Cryst. B31, 569-573.