Related literature
For previous work on N,N'-disubstituted thioureas, see: Rauf et al. (2012

). For a description of the Cambridge Structural Database, see: Allen (2002

).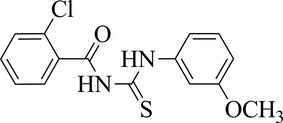 Experimental
Data collection: CrystalClear (Molecular Structure Corporation & Rigaku, 2001

); cell refinement: CrystalClear; data reduction: CrystalClear; program(s) used to solve structure: SIR97 (Altomare et al., 1999

); program(s) used to refine structure: SHELXL97 (Sheldrick, 2008

); molecular graphics: ORTEPII (Johnson, 1976

); software used to prepare material for publication: Yadokari-XG (Wakita, 2001

; Kabuto et al., 2009

).
---
Supplementary data and figures for this paper are available from the IUCr electronic archives (Reference: MW2100 ).
---
MKR is grateful to The Quaid-i-Azam University, Islamabad for financial support for a postdoctoral fellowship.
Allen, F. H. (2002). Acta Cryst. B58, 380-388.




Altomare, A., Burla, M. C., Camalli, M., Cascarano, G. L., Giacovazzo, C., Guagliardi, A., Moliterni, A. G. G., Polidori, G. & Spagna, R. (1999). J. Appl. Cryst. 32, 115-119.





Johnson, C. K. (1976). ORTEPII. Report ORNL-5138. Oak Ridge National Laboratory, Tennessee, USA.
Kabuto, C., Akine, S., Nemoto, T. & Kwon, E. (2009). J. Crystallogr. Soc. Jpn, 51, 218-224.


Molecular Structure Corporation & Rigaku (2001). CrystalClear. MSC, The Woodlands, Texas, USA, and Rigaku Corporation, Tokyo, Japan.
Rauf, M. K., Ebihara, M., Badshah, A. & Imtiaz-ud-Din (2012). Acta Cryst. E68, o120.
Sheldrick, G. M. (2008). Acta Cryst. A64, 112-122.



Wakita, K. (2001). Yadokari-XG. http://www.hat.hi-ho.ne.jp/k-wakita/yadokari .