---

Volume 69
Part 1
Pages o58-o59
January 2013
Received 22 November 2012
Accepted 5 December 2012
Online 8 December 2012
Key indicators
Single-crystal X-ray study
T = 190 K
Mean

(C-C) = 0.004 Å
Disorder in main residue
R = 0.056
wR = 0.127
Data-to-parameter ratio = 18.8
Details

3-{3,5-Bis[(2-butoxyethoxy)carbonyl]-2,6-dimethyl-1,4-dihydropyridin-4-yl}-1-[(3,4,5-trimethoxybenzoyl)methyl]pyridinium bromide

In the title salt, C37H51N2O10+·Br-, the 1,4-dihydropyridine (1,4-DHP) ring adopts a slighly puckered boat conformation. The N and opposite C atoms deviate from the least-squares plane calculated through the four other ring atoms by 0.068 (5) and 0.224 (5) Å, respectively. The orientation of both C=O groups is similar (cis with respect to the double bonds of 1,4-DHP. The pyridinium ring has an axial orientation with respect to the1,4-DHP ring and is almost perpendicular to the least-squares plane of the 1,4-DHP ring, making a dihedral angle of 89.2 (3)°. The molecule has a compact shape due to the parallel orientation of the long-chain substituents. One of the butoxy groups was fond to be disordered (occupancy ratio 0.70:0.30). In the crystal, the bromide anion accepts a weak hydrogen bond from the N-H group of a neighboring 1,4-DHP ring.
Related literature
For general information on the relationship between 1,4-dihydropyridine ring substituents and pharmaceutical effects, see: Hasko & Pacher (2008

); Niebauer & Robinson (2006

); Ruiz et al. (2012

); Swarnalatha et al. (2011

). For the synthesis of the DHP 3-pyridyl derivative, see: Saini et al. (2008

).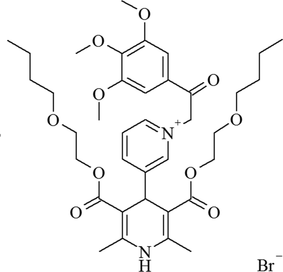 Experimental
Data collection: COLLECT (Hooft, 1998

); cell refinement: SCALEPACK (Otwinowski & Minor, 1997

); data reduction: DENZO (Otwinowski & Minor, 1997

) and SCALEPACK; program(s) used to solve structure: SHELXS97 (Sheldrick, 2008

); program(s) used to refine structure: SHELXL97 (Sheldrick, 2008

); molecular graphics: ORTEP-3 (Farrugia, 2012

); software used to prepare material for publication: SHELXL97.
---
Supplementary data and figures for this paper are available from the IUCr electronic archives (Reference: VM2184 ).
---
The study was supported by the Latvian National Research programme 2010-2013 `Development of prevention, treatment, diagnostic means and practices, and biomedicine technologies for improvement of public health'.
Farrugia, L. J. (2012). J. Appl. Cryst. 45, 849-854.





Hasko, G. & Pacher, P. (2008). J. Leukoc. Biol. 83, 447-455.





Hooft, R. (1998). COLLECT. Nonius BV, Delft, The Netherlands.
Niebauer, R. T. & Robinson, A. S. (2006). Protein Expres. Purif. 46, 204-211.



Otwinowski, Z. & Minor, W. (1997). Methods in Enzymology, Vol. 276, Macromolecular Crystallography, Part A, edited by C. W. Carter Jr & R. M. Sweet, pp. 307-326. New York: Academic Press.
Ruiz, E., Rodriguez, H., Coro, J., Niebla, V., Rodriguez, A., Martinez-Alvarez, R., Novoa de Armas, H., Suarez, M. & Nazario, M. (2012). Ultrason. Sonochem. 19, 221-226.






Saini, A., Kumar, S. & Sandhu, J. S. J. (2008). J. Sci. Ind. Res. 67, 95-111.


Sheldrick, G. M. (2008). Acta Cryst. A64, 112-122.



Swarnalatha, G., Prasanthi, G., Sirisha, N. & Madhusudhana Chetty, C. (2011). Int. J. ChemTech Res. 3, 75-89.