---

Volume 69
Part 1
Pages m7-m8
January 2013
Received 8 November 2012
Accepted 27 November 2012
Online 5 December 2012
Key indicators
Single-crystal X-ray study
T = 140 K
Mean

(C-C) = 0.002 Å
R = 0.018
wR = 0.048
Data-to-parameter ratio = 9.4
Details

Potassium (1R,4R,5S,8S)-4,5,8-trihydroxy-3-oxo-2,6-dioxabicyclo[3.3.0]octane-4-sulfonate dihydrate

The title salt, K+·C6H7O9S-·2H2O, formed by reaction of dehydro-L-ascorbic acid with potassium hydrogen sulfite in water, crystallizes as colourless plates. The potassium ion is coordinated by eight O atoms arising from hydroxy or sulfonate groups. The sulfonate group is bonded to the C atom neighbouring that of the lactone carbonyl group. As is commonly observed in crystalline L-ascorbic acid derivatives, the O atom of the primary hydroxy group is linked to the second C atom from the lactone C atom, forming a hemi-acetal function, thereby creating a bicyclic system of two fused five-membered rings, both of which have envelope conformations with one of the shared C atoms as the flap. Addition of the sulfur nucleophile occurs from the less hindered face. One of the two independent lattice water molecules has hydrogen bonds to sulfonate O atoms of two different anions and is the acceptor of bonds from hydroxy groups of two further anions; the second lattice water molecule donates to the carbonyl and a hydroxy O atom in different anions, and accepts from a hydroxy O atom in a further anion. Thus, through K-O coordination and hydrogen bonds, the potassium cations, sulfonate anions and water molecules are linked in a three-dimensional network.
Related literature
For the first synthesis of the title compound, see: Ingles (1961

). For related studies on crystalline properties of hydrogen sulfite addition products of carbohydrates and their structures, see: Cole et al. (2001

); Haines & Hughes (2010

, 2012

). For examples of related bicyclic structures based on dehydro-L-ascorbic acid, see: Hvoslef (1972

); Yvin et al. (1982

).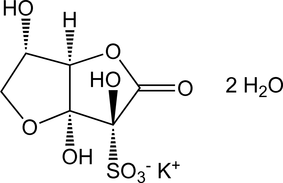 Experimental
Data collection: CrysAlis CCD (Oxford Diffraction, 2010

); cell refinement: CrysAlis CCD; data reduction: CrysAlis RED (Oxford Diffraction, 2010

); program(s) used to solve structure: SHELXS97 (Sheldrick, 2008

); program(s) used to refine structure: SHELXL97 (Sheldrick, 2008

); molecular graphics: ORTEPIII (Johnson, 1976

) and ORTEP-3 for Windows (Farrugia, 2012

); software used to prepare material for publication: SHELXL97 and WinGX (Farrugia, 2012

).
---
Supplementary data and figures for this paper are available from the IUCr electronic archives (Reference: WM2701 ).
---
Cole, E. R., Craig, D. C., Fitzpatrick, L. J., Hibbert, D. B. & Stevens, J. D. (2001). Carbohydr. Res. 335, 1-10.






Farrugia, L. J. (2012). J. Appl. Cryst. 45, 849-854.





Flack, H. D. (1983). Acta Cryst. A39, 876-881.



Haines, A. H. & Hughes, D. L. (2010). Carbohydr. Res. 345, 2705-2708.






Haines, A. H. & Hughes, D. L. (2012). Acta Cryst. E68, m377-m378.




Hvoslef, J. (1972). Acta Cryst. B28, 916-923.





Ingles, D. L. (1961). Aust. J. Chem. 14, 302-307.



Johnson, C. K. (1976). ORTEPII. Report ORNL-5138. Oak Ridge National Laboratory, Tennessee, USA.
Oxford Diffraction (2010). CrysAlis CCD and CrysAlis RED. Oxford Diffraction Ltd, Yarnton, England.
Sheldrick, G. M. (2008). Acta Cryst. A64, 112-122.



Yvin, J.-C., Chevolot-Magueur, A.-M., Chevolot, L., Lallemand, J.-Y., Potier, P. & Guilhem, J. (1982). J. Am. Chem. Soc. 104, 4497-4498.