---

Volume 69
Part 1
Page o31
January 2013
Received 30 November 2012
Accepted 1 December 2012
Online 8 December 2012
Key indicators
Single-crystal X-ray study
T = 293 K
Mean

(C-C) = 0.004 Å
R = 0.063
wR = 0.186
Data-to-parameter ratio = 18.9
Details

N,N,2,4,6-Pentamethylanilinium hexafluorophosphate

In the crystal structure of the title salt, C11H18N+·PF6-, the cation and anion are connected via an N-H

F hydrogen bond; weak C-H

F hydrogen bonding also occurs between the cations and anions.
Related literature
For the background to the title salt, see: Haertling et al. (1999

); Homes et al. (2001

).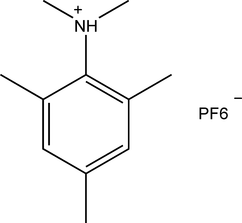 Experimental
Data collection: CrystalClear (Rigaku, 2005

); cell refinement: CrystalClear; data reduction: CrystalClear; program(s) used to solve structure: SHELXTL (Sheldrick, 2008

); program(s) used to refine structure: SHELXTL; molecular graphics: SHELXTL; software used to prepare material for publication: SHELXTL.
---
Supplementary data and figures for this paper are available from the IUCr electronic archives (Reference: XU5658 ).
---
Acknowledgements
The author is grateful to the starter fund of Nanjing College of Chemical Technology for financial support.
---
Acta Cryst (2013). E69, o31 [ doi:10.1107/S1600536812049379 ]