---

Volume 69
Part 2
Page m127
February 2013
Received 9 January 2013
Accepted 22 January 2013
Online 31 January 2013
Key indicators
Single-crystal X-ray study
T = 293 K
Mean

(C-C) = 0.003 Å
R = 0.028
wR = 0.105
Data-to-parameter ratio = 11.6
Details

Diaqua(5-carboxybenzene-1,3-dicarboxylato-O1)[8-ethyl-5-oxo-2-(piperazin-4-ium-1-yl)-5,8-dihydropyrido[2,3-d]pyrimidine-6-carboxylato-2O5,O6]zinc monohydrate

In the title compound, [Zn(C14H17N5O3)(C9H4O6)(H2O)2]·H2O, the complex molecule exists in a zwitterionic form. The ZnII ion exhibits a distorted tetragonal-pyramidal geometry, being coordinated by two O atoms from the zwitterionic 8-ethyl-5-oxo-2-(piperazin-4-ium-1-yl)-5,8-dihydropyrido[2,3-d]pyrimidine-6-carboxylate (L) ligand, one O atom from the 5-carboxybenzene-1,3-dicarboxylate dianion, [Hbtc]2-, and two O atoms from two aqua ligands. In the crystal, N-H

O and O-H

O hydrogen bonds link the components into a three-dimensional structure. The crystal packing exhibits

-

interactions between the aromatic rings, with centroid-centroid distances in the range 3.466 (3)-3.667 (3) Å.
Related literature
For general background to the use of quinolones in the treatment of infections, see: Mizuki et al. (1996

). For the crystal structure of a related compound, see: Zhang et al. (2011

).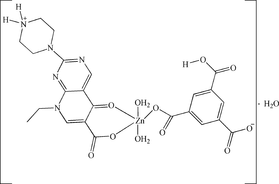 Experimental
Data collection: SMART (Bruker, 2001

); cell refinement: SAINT (Bruker, 2001

); data reduction: SAINT; program(s) used to solve structure: SHELXS97 (Sheldrick, 2008

); program(s) used to refine structure: SHELXL97 (Sheldrick, 2008

); molecular graphics: SHELXTL (Sheldrick, 2008

); software used to prepare material for publication: SHELXL97.
---
Supplementary data and figures for this paper are available from the IUCr electronic archives (Reference: CV5383 ).
---
Acknowledgements
This work was supported financially by the Science and Technology Foundation of Southwest University (grant No. SWUB2007035) and the Science and Technology Innovation Foundation for Students of Southwest University.
Bruker (2001). SAINT, SMART and SADABS. Bruker AXS Inc., Madison, Wisconsin, USA.
Mizuki, Y., Fujiwara, I. & Yamaguchi, T. (1996). J. Antimicrob. Chemother. 37, Suppl. A, 41-45.
Sheldrick, G. M. (2008). Acta Cryst. A64, 112-122.



Zhang, G.-J., He, J.-H., Yan, S.-W., Ye, Z.-L. & Xin, G.-H. (2011). Acta Cryst. E67, o1011-o1012.