Related literature
For the preparation of the title compound and other 4-hydroxyquinolin-2-ones, see: Baumgarten & Kärgel (1927

); Lange et al., (2001

); Martensson & Nilsson (1960

); Bezuglyi et al. (1992

). For synthetic utilization of the title compound, see: Kafka et al. (2002

); Klásek et al. (2002

).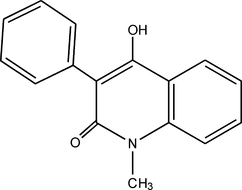 Experimental
Data collection: COLLECT (Nonius, 1998

); cell refinement: DENZO and SCALEPACK (Otwinowski & Minor, 1997

); data reduction: DENZO and SCALEPACK; program(s) used to solve structure: SHELXS97 (Sheldrick, 2008

); program(s) used to refine structure: SHELXL97 (Sheldrick, 2008

); molecular graphics: PLATON (Spek, 2009

) and DIAMOND (Brandenburg, 1999

); software used to prepare material for publication: WinGX (Farrugia, 2012

).
---
Supplementary data and figures for this paper are available from the IUCr electronic archives (Reference: FY2079 ).
---
This study was supported by the internal grant of the TBU in Zlin (No. IGA/FT/2012/043) funded from the resources of specific university research and the Slovenian Research Agency (Project P1-0230-0103 and Joint Project BI-CZ/07-08-018). This work was also partly supported through the infrastructure of the EN-FIST Centre of Excellence, Ljubljana.
Baumgarten, P. & Kärgel, W. (1927). Ber. Dtsch Chem. Ges. B, 60, 832-842.


Bezuglyi, P. A., Ukrainets, I. V., Treskach, V. I. & Turov, A. V. (1992). Khim. Geterotsikl. Soedin. pp. 522-524.
Brandenburg, K. (1999). DIAMOND. Crystal Impact GbR, Bonn, Germany.
Farrugia, L. J. (2012). J. Appl. Cryst. 45, 849-854.





Kafka, S., Klásek, A., Polis, J. & Kosmrlj, J. (2002). Heterocycles, 57, 1659-1682.


Klásek, A., Polis, J., Mrkvicka, V. & Kosmrlj, J. (2002). J. Heterocycl. Chem. 39, 1315-1320.
Lange, J. H. M., Verveer, P. C., Osnabrug, S. J. M. & Visser, G. M. (2001). Tetrahedron Lett. 42, 1367-1369.




Martensson, O. & Nilsson, E. (1960). Acta Chem. Scand. 14, 1129-1150.


Nonius (1998). COLLECT. Nonius BV, Delft, The Netherlands.
Otwinowski, Z. & Minor, W. (1997). Methods in Enzymology, Vol. 276, Macromolecular Crystallography, Part A, edited by C. W. Carter Jr & R. M. Sweet, pp. 307-326. New York: Academic Press.
Sheldrick, G. M. (2008). Acta Cryst. A64, 112-122.



Spek, A. L. (2009). Acta Cryst. D65, 148-155.