---

Volume 69
Part 2
Page o192
February 2013
Received 2 November 2012
Accepted 25 December 2012
Online 9 January 2013
Key indicators
Single-crystal X-ray study
T = 296 K
Mean

(C-C) = 0.002 Å
R = 0.027
wR = 0.073
Data-to-parameter ratio = 13.1
Details

(6-Methoxy-2-oxo-2H-chromen-4-yl)methyl morpholine-4-carbodithioate

aDepartment of Physics, Yuvaraja's College (Constituent College), University of Mysore, Mysore 570 005, Karnataka, India,bDepartment of Chemistry, Karnatak University's Karnatak Science College, Dharwad, Karnataka 580 001, India, and cDeapartment of Studies and Research in Chemistry, Tumkur University, Tumkur 572 103, Karnataka, India
Correspondence e-mail: devarajegowda@yahoo.com
In the title compound, C16H17NO4S2, the 2H-chromene ring system is nearly planar, with a maximum deviation of 0.070 (1) Å, and the morpholine ring adopts a chair conformation; the bond-angle sum for its N atom is 357.9°. The dihedral angle between the the 2H-chromene ring and the best plane through the morpholine ring is 89.09 (6)°. An intramolecular C-H

S hydrogen bond occurs. In the crystal, C-H

O hydrogen bonds generate R22(8) rings and

-

interactions occur between fused benzene rings of the chromene system [shortest centroid-centroid distance = 3.5487 (8) Å].
Related literature
For a related structure, background to coumarins and details of the synthesis of the title compound, see: Kumar et al. (2012

).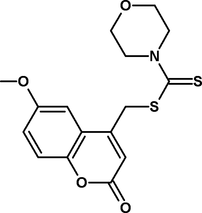 Experimental
Data collection: SMART (Bruker, 2001

); cell refinement: SAINT (Bruker, 2001

); data reduction: SAINT; program(s) used to solve structure: SHELXS97 (Sheldrick, 2008

); program(s) used to refine structure: SHELXL97 (Sheldrick, 2008

); molecular graphics: ORTEP-3 for Windows (Farrugia, 2012

); software used to prepare material for publication: SHELXL97.
---
Supplementary data and figures for this paper are available from the IUCr electronic archives (Reference: GW2129 ).
---
Acknowledgements
The authors thank the Universities Sophisticated Instrumental Centre, Karnatak University, Dharwad, for the CCD X-ray facilities, X-ray data collection, GCMS, IR, CHNS and NMR data. KMK is grateful to Karnatak Science College, Dharwad, for providing laboratory facilities.
Bruker (2001). SMART and SAINT. Bruker AXS Inc., Madison, Wisconsin, USA.
Farrugia, L. J. (2012). J. Appl. Cryst. 45, 849-854.





Kumar, K. M., Kour, D., Kapoor, K., Mahabaleshwaraiah, N. M., Kotresh, O., Gupta, V. K. & Kant, R. (2012). Acta Cryst. E68, o878-o879.




Sheldrick, G. M. (2007). SADABS. University of Göttingen, Germany.
Sheldrick, G. M. (2008). Acta Cryst. A64, 112-122.