---

Volume 69
Part 2
Page o176
February 2013
Received 7 December 2012
Accepted 13 December 2012
Online 4 January 2013
Key indicators
Single-crystal X-ray study
T = 293 K
Mean

(C-C) = 0.002 Å
R = 0.041
wR = 0.114
Data-to-parameter ratio = 13.6
Details

2-[5-(2-Fluorophenyl)-3-isobutyl-1H-pyrazol-1-yl]benzoic acid

aDepartment of Studies and Research in Chemistry, Tumkur University, Tumkur, Karnataka 572 103, India,bDepartment of Studies and Research in Chemistry, U.C.S., Tumkur University, Tumkur, Karnataka 572 103, India,cSoild State and Structural Chemistry Unit, Indian Institute of Science, Bangalore 560 012 India, and dDepartment of Studies and Research in Physics, U.C.S., Tumkur University, Tumkur, Karnataka 572 103, India
Correspondence e-mail: drsreenivasa@yahoo.co.in
In the title compound, C20H19FN2O2, the dihedral angle between the aromatic rings is 62.1 (1)°, and those between the pyrazole ring and the fluorobenzene and benzoic acid rings are 52.1 (1) and 53.1 (1)°, respectively. In the crystal, molecules are linked into [010] C(7) chains by O-H

N hydrogen bonds.
Related literature
For background to pyrazole derivatives and their uses, see: Ramaiah et al. (1999

).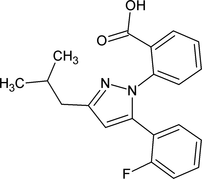 Experimental
Data collection: APEX2 (Bruker, 2004

); cell refinement: SAINT-Plus (Bruker, 2004

); data reduction: SAINT-Plus; program(s) used to solve structure: SHELXS97 (Sheldrick, 2008

); program(s) used to refine structure: SHELXL97 (Sheldrick, 2008

); molecular graphics: ORTEP-3 (Farrugia, 2012

); software used to prepare material for publication: SHELXL97.
---
Supplementary data and figures for this paper are available from the IUCr electronic archives (Reference: HB7011 ).
---
Acknowledgements
The authors thank Dr S. C. Sharma, Vice Chancellor, Tumkur University, for his constant encouragement and Professor T. N. Guru Row, Soild State and Structural Chemistry Unit, Indian Institute of Science, Bangalore, for his help and valuable suggestions. BSP thanks Dr H. C. Devarajegowda, Department of Physics, Yuvarajas College (constituent), University of Mysore, for his guidance.
Bruker (2004). APEX2, SAINT-Plus and SADABS. Bruker AXS Inc., Madison, Wisconsin, USA.
Farrugia, L. J. (2012). J. Appl. Cryst. 45, 849-854.





Ramaiah, K., Grossert, J. S., Hooper, D. L., Dubey, P. K. & Ramanatham, J. (1999). J. Indian Chem. Soc. 76, 140-144.


Sheldrick, G. M. (2008). Acta Cryst. A64, 112-122.