---

Volume 69
Part 2
Page o304
February 2013
Received 20 December 2012
Accepted 11 January 2013
Online 31 January 2013
Key indicators
Single-crystal X-ray study
T = 100 K
Mean

(C-C) = 0.003 Å
Disorder in main residue
R = 0.064
wR = 0.134
Data-to-parameter ratio = 19.0
Details

3-{5-Ethoxycarbonyl-1-[3-(2-oxopyrrolidin-1-yl)propyl]-1H-benzimidazol-2-yl}benzoic acid

aInstitute for Research in Molecular Medicine, Universiti Sains Malaysia, 11800 USM, Penang, Malaysia, and bX-ray Crystallography Unit, School of Physics, Universiti Sains Malaysia, 11800 USM, Penang, Malaysia
Correspondence e-mail: arazaki@usm.my
In the title compound, C24H25N3O5, the ethoxy group is disordered over two orientations in a 0.853 (14):0.147 (14) ratio. The benzimadazole ring system (r.m.s. deviation = 0.016 Å) makes a dihedral angle of 35.47 (7)° with the attached benzene ring. The pyrrolidine ring adopts an envelope conformation with a methylene C atom as the flap. In the crystal, inversion dimers linked by pairs of O-H

N hydrogen bonds generate R22(16) loops. C-H

O interactions link the dimers into a three-dimensional network.
Related literature
For a related structure and background to benzimidazoles, see: Yoon et al. (2012

). For the stability of the temperature controller used in the data collection, see: Cosier & Glazer (1986

). For puckering parameters, see: Cremer & Pople (1975

).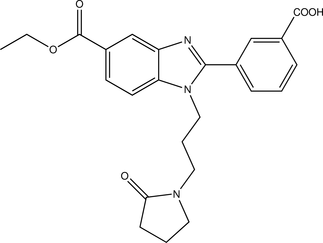 Experimental
Data collection: APEX2 (Bruker, 2009

); cell refinement: SAINT (Bruker, 2009

); data reduction: SAINT; program(s) used to solve structure: SHELXTL (Sheldrick, 2008

); program(s) used to refine structure: SHELXTL; molecular graphics: SHELXTL; software used to prepare material for publication: SHELXTL and PLATON (Spek, 2009

).
---
Supplementary data and figures for this paper are available from the IUCr electronic archives (Reference: HB7017 ).
---
Acknowledgements
The authors thank the Pharmacogenetics and Novel Therapeutics Research Cluster, Institute for Research in Molecular Medicine, Universiti Sains Malaysia (USM), Penang, for supporting this work. This work was funded through Research Grant (RUC) No. 1001/PSK/8620012 and HiCoE Research Grant No. 311.CIPPM.4401005. IAR also thanks USM for the Research University Grant No. 1001/PFIZIK/811151.
Bruker (2009). APEX2, SAINT and SADABS. Bruker AXS Inc., Madison, Wisconsin, USA.
Cosier, J. & Glazer, A. M. (1986). J. Appl. Cryst. 19, 105-107.





Cremer, D. & Pople, J. A. (1975). J. Am. Chem. Soc. 97, 1354-1358.




Sheldrick, G. M. (2008). Acta Cryst. A64, 112-122.



Spek, A. L. (2009). Acta Cryst. D65, 148-155.




Yoon, Y. K., Ali, M. A., Choon, T. S., Asik, S. I. J. & Razak, I. A. (2012). Acta Cryst. E68, o59.