---

Volume 69
Part 2
Page o229
February 2013
Received 17 December 2012
Accepted 6 January 2013
Online 12 January 2013
Key indicators
Single-crystal X-ray study
T = 296 K
Mean

(C-C) = 0.003 Å
R = 0.045
wR = 0.140
Data-to-parameter ratio = 15.6
Details

2-Chloro-N-methyl-N-[2-(methylamino)phenyl]acetamide

The title compound, C10H13ClN2O, was obtained as a by-product in the reaction of 2-chloromethyl-1H-benzimidazole, dimethyl sulfate and toluene to synthesise 2-chloromethyl-1-methylbenzimidazole. The dihedral angle between the benzene ring and the acetamide group is 89.72 (6)° while that between the aromatic ring and the chloracetyl group is 84.40 (4)°. In the crystal, adjacent molecules are linked by pairs of N-H

O hydrogen bonds into inversion dimers.
Related literature
For the synthesis of similar compounds, see: Turner & Wood (1965

); Bai et al. (2008

).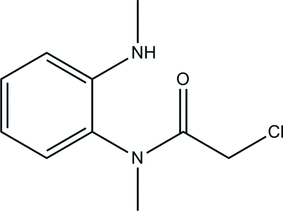 Experimental
Data collection: APEX2 (Bruker, 2004

); cell refinement: SAINT (Bruker, 2004

); data reduction: SAINT; program(s) used to solve structure: SHELXS97 (Sheldrick, 2008

); program(s) used to refine structure: SHELXL97 (Sheldrick, 2008

); molecular graphics: SHELXTL (Sheldrick, 2008

); software used to prepare material for publication: SHELXTL.
---
Supplementary data and figures for this paper are available from the IUCr electronic archives (Reference: NC2302 ).
---
Acknowledgements
This work was supported financially by grants from the National Natural Science Foundation of China (No. 30971882), the Program of Natural Science Basis Research in Shaanxi (No. 2009JM3010) and Shaanxi Province Science and Technology (No. 2011k02-07).
Bai, Y., Li, C., Sun, W., Zhao, G. & Shi, Z. (2008). Hua Xue Shiji, 30, 409-411.


Bruker (2004). APEX2 and SAINT. Bruker AXS Inc., Madison, Wisconin, USA.
Sheldrick, G. M. (1996). SADABS. University of Göttingen, Germany.
Sheldrick, G. M. (2008). Acta Cryst. A64, 112-122.



Turner, A. B. & Wood, H. C. S. (1965). J. Chem. Soc. pp. 5270-5275.