---

Volume 69
Part 2
Page o218
February 2013
Received 13 December 2012
Accepted 19 December 2012
Online 12 January 2013
Key indicators
Single-crystal X-ray study
T = 293 K
Mean

(C-C) = 0.004 Å
R = 0.048
wR = 0.152
Data-to-parameter ratio = 16.6
Details

(7aR)-1-[(2R,5S,E)-6-Hydroxy-5,6-dimethylhept-3-en-2-yl]-7a-methylhexahydro-1H-inden-4(2H)-one

aDpto. Química Orgánica, Facultade de Química, Universidade de Vigo, E-36310 Vigo, Spain, and bUnidad de Difracción de Raios X de Monocristal, Servicio Determinación Estructural, Proteómica e Xenómica, CACTI-Universidade de Vigo, E-36310 Vigo, Spain
Correspondence e-mail: m.lois@uvigo.es
The chiral title compound, C19H32O2, contains a [4.3.0]-bicyclic moiety in which the shared C-C bond presents a trans configuration and a side chain in which the C=C double bond shows an E conformation. The conformations of five- and six-membered rings are envelope (with the bridgehead atom bearing the methyl substituent as the flap) and chair, respectively, with a dihedral angle of 4.08 (17)° between the idealized planes of the rings. In the crystal, the molecules are self-assembled via classical O-H

O hydrogen bonds, forming chains along [112]; these chains are linked by weak non-classical C-H

O hydrogen bonds, giving a two-dimensional supramolecular structure parallel to (010). The absolute configuration was established according to the configuration of the starting material.
Related literature
The title compound is a precursor of the hormonally active form of vitamin D3. For general background to vitamin D3, see: Heaney (2008

); Henry (2011

). For related structures, see: Maehr & Uskokovic (2004

). For puckering parameters, see: Cremer & Pople (1975

).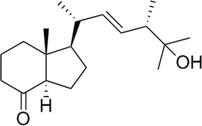 Experimental
Data collection: SMART (Bruker, 1998

); cell refinement: SAINT (Bruker, 1998

); data reduction: SAINT; program(s) used to solve structure: SHELXS97 (Sheldrick, 2008

); program(s) used to refine structure: SHELXL97 (Sheldrick, 2008

); molecular graphics: PLATON (Spek, 2009

) and Mercury (Macrae et al., 2006

); software used to prepare material for publication: SHELXTL (Sheldrick, 2008

).
---
Supplementary data and figures for this paper are available from the IUCr electronic archives (Reference: PV2614 ).
---
This work was supported financially by the Spanish Ministry of Foreign Affairs and Cooperation (PCIA/030052/10) and the Xunta de Galicia (INCITE845B, INCITE08PXIB314255PR).
Bruker (1998). SMART and SAINT. Bruker AXS Inc., Madinson, Wisconsin, USA.
Cremer, D. & Pople, J. A. (1975). J. Am. Chem. Soc. 97, 1354-1358.




Heaney, R. P. (2008). Clin. J. Am. Soc. Nephrol. 3, 1535-1541.




Henry, H. L. (2011). Best Pract. Res. Clin. Endocrinol. Metab. 25, 531-541.




Macrae, C. F., Edgington, P. R., McCabe, P., Pidcock, E., Shields, G. P., Taylor, R., Towler, M. & van de Streek, J. (2006). J. Appl. Cryst. 39, 453-457.





Maehr, H. & Uskokovic, M. R. (2004). Eur. J. Org. Chem. pp. 1703-1713.



Sheldrick, G. M. (1996). SADABS. University of Göttingen, Germany.
Sheldrick, G. M. (2008). Acta Cryst. A64, 112-122.



Spek, A. L. (2009). Acta Cryst. D65, 148-155.