---

Volume 69
Part 2
Page m89
February 2013
Received 17 December 2012
Accepted 23 December 2012
Online 9 January 2013
Key indicators
Single-crystal X-ray study
T = 296 K
Mean

(C-C) = 0.003 Å
R = 0.032
wR = 0.088
Data-to-parameter ratio = 12.4
Details

Bis(2,2',2''-nitrilotriacetamide-3O,N,O')nickel(II) dinitrate tetrahydrate

In the title compound, [Ni(C6H12N4O3)2](NO3)2·4H2O, the NiII cation is located on an inversion center and is N,O,O'-chelated by two nitrilotris(acetamide) molecules in a distorted octahedral geometry. The complex cations, nitrate anions and lattice water molecules are connected by O-H

O and N-H

O hydrogen bonds, forming a three-dimensional supramolecular structure.
Related literature
For related metal complexes, see: Niraj et al. (2012

); Biswajit et al. (2009

); Ben Amor et al. (1998

). For the synthesis of the ligand, see: Donald & George (1974

).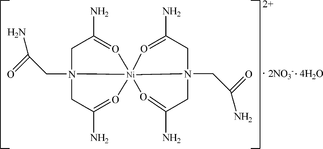 Experimental
Data collection: SMART (Bruker, 2007

); cell refinement: SAINT (Bruker, 2007

); data reduction: SAINT ; program(s) used to solve structure: SHELXTL (Sheldrick, 2008

); program(s) used to refine structure: SHELXTL; molecular graphics: SHELXTL; software used to prepare material for publication: SHELXTL.
---
Supplementary data and figures for this paper are available from the IUCr electronic archives (Reference: XU5668 ).
---
This research was supported by the International Cooperation Special Fund of the Ministry of Science and Technology, China (No. 2011DFB31620). We are grateful to Professor Dr S.-M. Qiu of Hubei Academy of Agricultural Science for his valuable suggestions.
Ben Amor, F., Bourguiba, N., Driss, A. & Jouini, T. (1998). Acta Cryst. C54, 197-199.




Biswajit, D., Somnath, R. C., Eringathodi, S., Atish, D. J. & Subrata, M. (2009). J. Mol. Struct. 921, 268-273.
Bruker (2001). SADABS. Bruker AXS Inc., Madison, Wisconsin, USA.
Bruker (2007). SMART and SAINT. Bruker AXS Inc., Madison, Wisconsin, USA.
Donald, H. T. & George, C. H. (1974). US patent No. 3799981.
Niraj, K., Benzamin, D. W., Sanjib, K. & Lallan, M. (2012). Polyhedron, 33, 425-434.
Sheldrick, G. M. (2008). Acta Cryst. A64, 112-122.