---

Volume 69
Part 2
Page o292
February 2013
Received 17 January 2013
Accepted 20 January 2013
Online 26 January 2013
Key indicators
Single-crystal X-ray study
T = 100 K
Mean

(C-C) = 0.002 Å
R = 0.045
wR = 0.108
Data-to-parameter ratio = 20.0
Details

N,N,N',N',N''-Pentamethyl-N''-[3-(trimethylazaniumyl)propyl]guanidinium bis(tetraphenylborate)

In the crystal structure of the title salt, C12H30N42+·2C24H20B-, the C-N bond lengths in the central CN3 unit of the guanidinium ion are 1.3388 (17), 1.3390 (16) and 1.3540 (17) Å, indicating partial double-bond character in each. The central C atom is bonded to the three N atoms in a nearly ideal trigonal-planar geometry and the positive charge is delocalized in the CN3 plane. The bonds between the N atoms and the terminal C-methyl groups of the guanidinium moiety, all have values close to a typical single bond [1.4630 (16)-1.4697 (17) Å]. C-H


interactions are present between the guanidinium H atoms and the phenyl C atoms of one tetraphenylborate ion. The phenyl rings form a kind of aromatic pocket, in which the guanidinium ion is embedded.
Related literature
For the synthesis of N''-[3-(dimethylamino)propyl]- N,N,N',N'-tetramethylguanidine, see: Tiritiris & Kantlehner (2012

). For the crystal structures of alkali metal tetraphenylborates, see: Behrens et al. (2012

).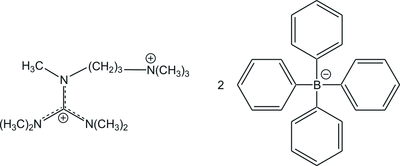 Experimental
Data collection: COLLECT (Hooft, 2004

); cell refinement: SCALEPACK (Otwinowski & Minor, 1997

); data reduction: SCALEPACK; program(s) used to solve structure: SHELXS97 (Sheldrick, 2008

); program(s) used to refine structure: SHELXL97 (Sheldrick, 2008

); molecular graphics: DIAMOND (Brandenburg & Putz, 2005

); software used to prepare material for publication: SHELXL97.
---
Supplementary data and figures for this paper are available from the IUCr electronic archives (Reference: ZL2530 ).
---
Acknowledgements
The author thanks Dr F. Lissner (Institut für Anorganische Chemie, Universität Stuttgart) for measuring the crystal data.
Behrens, U., Hoffmann, F. & Olbrich, F. (2012). Organometallics, 31, 905-913.




Brandenburg, K. & Putz, H. (2005). DIAMOND. Crystal Impact GbR, Bonn, Germany.
Hooft, R. W. W. (2004). COLLECT. Bruker-Nonius BV, Delft, The Netherlands.
Otwinowski, Z. & Minor, W. (1997). Methods in Enzymology, Vol. 276, Macromolecular Crystallography, Part A, edited by C. W. Carter Jr & R. M. Sweet, pp. 307-326. New York: Academic Press.
Sheldrick, G. M. (2008). Acta Cryst. A64, 112-122.



Tiritiris, I. & Kantlehner, W. (2012). Z. Naturforsch. Teil B, 67, 685-698.