Related literature
For the synthesis of the iridium phenylpyridine starting material, see: Nonoyama (1974

). For preparation of phenyl pyridine-based Ir(III) complexes, see: Lamansky et al. (2001

). For similar types of complexes, see: Neve et al. (1999

). For standard bond lengths, see: Allen et al. (1987

). For hydrogen bonding, see: Desiraju (1991

) and for C-H


interactions, see: Ma & Dougherty (1997

). For oxime ligands, see: Godycki & Rundle (1953

).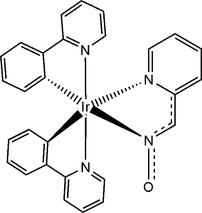 Experimental
Data collection: SMART (Bruker, 2003

); cell refinement: SMART (Bruker, 2003

); data reduction: SAINT (Bruker, 2003

); program(s) used to solve structure: SHELXS97 (Sheldrick, 2008

); program(s) used to refine structure: SHELXL97 (Sheldrick, 2008

); molecular graphics: ORTEP-3 for Windows (Farrugia, 2012

); software used to prepare material for publication: SHELXL97.
---
Supplementary data and figures for this paper are available from the IUCr electronic archives (Reference: BG2497 ).
---
The authors would like to thank the Department of Science and Technology, Government of India (Fast-Track project, Grant No. SR/FT/CS-050/2009) for research funding. We also gratefully acknowlege the University of Hyderabad (India) single-crystal X-ray facility for the data collection.
Allen, F. H., Kennard, O., Watson, D. G., Brammer, L., Orpen, A. G. & Taylor, R. (1987). J. Chem. Soc. Perkin Trans. 2, pp. S1-S19.
Bruker (2003). SMART, SAINT and SADABS. Bruker AXS inc., Madison, Wisconsin, USA.
Desiraju, G. R. (1991). Acc. Chem. Res. 24, 290-296.




Farrugia, L. J. (2012). J. Appl. Cryst. 45, 849-854.





Flack, H. D. (1983). Acta Cryst. A39, 876-881.



Godycki, L. E. & Rundle, R. E. (1953). Acta Cryst. 6, 487-495.




Lamansky, S., Djurovich, P., Murphy, D., Abdel-Razzaq, F., Kwong, R., Tsyba, I., Bortz, M., Mui, B., Bau, R. & Thompson, M. E. (2001). Inorg. Chem. 40, 1704-1711.






Ma, J. C. & Dougherty, D. A. (1997). Chem. Rev. 97, 1303-1324.





Neve, F., Crispini, A., Campagna, S. & Serroni, S. (1999). Inorg. Chem. 38, 2250-2258.




Nonoyama, M. (1974). Bull. Chem. Soc. Jpn, 47, 767-768.




Sheldrick, G. M. (2008). Acta Cryst. A64, 112-122.