---

Volume 69
Part 3
Pages o438-o439
March 2013
Received 8 February 2013
Accepted 19 February 2013
Online 23 February 2013
Key indicators
Single-crystal X-ray study
T = 293 K
Mean

(C-C) = 0.003 Å
R = 0.047
wR = 0.127
Data-to-parameter ratio = 18.5
Details

Methyl 11-hydroxy-9-[1-(4-methoxyphenyl)-4-oxo-3-phenylazetidin-2-yl]-18-oxo-10-oxa-2-azapentacyclo[9.7.0.01,8.02,6.012,17]octadeca-12(17),13,15-triene-8-carboxylate

aCentre of Advanced Study in Crystallography and Biophysics, University of Madras, Guindy Campus, Chennai 600 025, India, and bDepartment of Organic Chemistry, University of Madras, Guindy Campus, Chennai 600 025, India
Correspondence e-mail: shirai2011@gmail.com
In the title compound, C34H32N2O7, the furan ring adopts a twist conformation and both the pyrrolidine rings adopt envelope conformations with O and C as flap atoms. The

-lactam ring makes a dihedral angles of 80.20 (10)° with the furan ring, of 75.55 (10)° with the pyrrolidine ring, of 12.26 (10)° with the methoxyphenyl ring and of 73.77 (13)° with the phenyl ring. The O atom attached to the

-lactam ring deviates by 0.0385 (13) Å from the ring plane. The molecular conformation is stabilized by intramolecular O-H

N and C-H

O hydrogen bonds. The packing of the crystal is stabilized by intermolecular C-H

O hydrogen bonds, which form a chain running along the b axis.
Related literature
For general background to

-lactams, see: Banik & Becker (2000

); Brakhage (1998

). For a related structure, see: Sundaramoorthy et al. (2012

).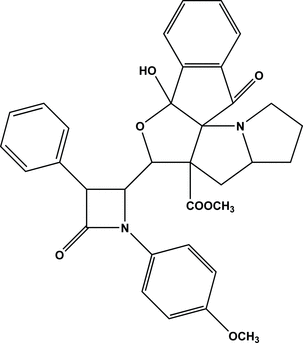 Experimental
Data collection: APEX2 (Bruker, 2008

); cell refinement: SAINT (Bruker, 2008

); data reduction: SAINT; program(s) used to solve structure: SHELXS97 (Sheldrick, 2008

); program(s) used to refine structure: SHELXL97 (Sheldrick, 2008

); molecular graphics: ORTEP-3 for Windows (Farrugia, 2012

); software used to prepare material for publication: SHELXL97 and PLATON (Spek, 2009

).
---
Supplementary data and figures for this paper are available from the IUCr electronic archives (Reference: BT6889 ).
---
Acknowledgements
The authors thank the TBI X-ray facility, CAS in Crystallography and Biophysics, University of Madras, India, for the data collection. TS thanks the DST for an Inspire fellowship and SS thanks the UGC for a meritorious fellowship.
Banik, B. K. & Becker, F. F. (2000). Tetrahedron Lett. 41, 6551-6554.




Brakhage, A. A. (1998). Microbiol. Mol. Biol. Rev. 62, 547-585.




Bruker (2008). APEX2, SAINT and SADABS. Bruker AXS Inc., Madison, Wisconsin, USA.
Farrugia, L. J. (2012). J. Appl. Cryst. 45, 849-854.





Sheldrick, G. M. (2008). Acta Cryst. A64, 112-122.



Spek, A. L. (2009). Acta Cryst. D65, 148-155.




Sundaramoorthy, S., Rajesh, R., Raghunathan, R. & Velmurugan, D. (2012). Acta Cryst. E68, o2200-o2201.