Related literature
For background to the chemistry of substituted pyridines, see: Pozharski et al. (1997

); Katritzky et al. (1996

). For related structures, see: Hemamalini & Fun (2010

); Thanigaimani et al. (2012

); Draguta et al. (2012

). For hydrogen-bond motifs, see: Bernstein et al. (1995

). For bond-length data, see: Allen et al. (1987

). For stability of the temperature controller used for the data collection, see: Cosier & Glazer (1986

).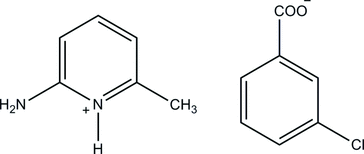 Experimental
Data collection: APEX2 (Bruker, 2009

); cell refinement: SAINT (Bruker, 2009

); data reduction: SAINT; program(s) used to solve structure: SHELXTL (Sheldrick, 2008

); program(s) used to refine structure: SHELXTL; molecular graphics: SHELXTL; software used to prepare material for publication: SHELXTL and PLATON (Spek, 2009

).
---
Supplementary data and figures for this paper are available from the IUCr electronic archives (Reference: IS5234 ).
---
The authors thank the Malaysian Government and Universiti Sains Malaysia (USM) for the research facilities and USM Short Term Grant No. 304/PFIZIK/6312078 to conduct this work. KT thanks The Academy of Sciences for the Developing World and USM for a TWAS-USM fellowship.
Allen, F. H., Kennard, O., Watson, D. G., Brammer, L., Orpen, A. G. & Taylor, R. (1987). J. Chem. Soc. Perkin Trans. 2, pp. S1-19.
Bernstein, J., Davis, R. E., Shimoni, L. & Chang, N.-L. (1995). Angew. Chem. Int. Ed. Engl. 34, 1555-1573.




Bruker (2009). SADABS, APEX2 and SAINT. Bruker AXS Inc., Madison, Wisconsin, USA.
Cosier, J. & Glazer, A. M. (1986). J. Appl. Cryst. 19, 105-107.





Draguta, S., Khrustalev, V. N., Sandhu, B., Antipin, M. Y. & Timofeeva, T. V. (2012). Acta Cryst. E68, o3466.




Hemamalini, M. & Fun, H.-K. (2010). Acta Cryst. E66, o1843-o1844.




Katritzky, A. R., Rees, C. W. & Scriven, E. F. V. (1996). In Comprehensive Heterocyclic Chemistry II. Oxford: Pergamon Press.
Pozharski, A. F., Soldatenkov, A. T. & Katritzky, A. R. (1997). In Heterocycles in Life and Society. New York: Wiley.
Sheldrick, G. M. (2008). Acta Cryst. A64, 112-122.



Spek, A. L. (2009). Acta Cryst. D65, 148-155.




Thanigaimani, K., Farhadikoutenaei, A., Khalib, N. C., Arshad, S. & Razak, I. A. (2012). Acta Cryst. E68, o3195.