---

Volume 69
Part 3
Page o447
March 2013
Received 18 January 2013
Accepted 20 February 2013
Online 28 February 2013
Key indicators
Single-crystal X-ray study
T = 113 K
Mean

(C-C) = 0.002 Å
R = 0.043
wR = 0.077
Data-to-parameter ratio = 17.2
Details

1,15-Dihydroxy-16,17-epoxypregn-4-ene-3,20-dione

aKey Laboratory of Industrial Fermentation Microbiology (Tianjin University of Science and Technology), Ministry of Education, College of Biotechnology, Tianjin University of Science and Technology, Tianjin 300457, People's Republic of China
Correspondence e-mail: minw@tust.edu.cn
The title molecule, C21H28O5, is composed of three six-membered rings (A/B/C) and a five-membered ring (D). Ring A adopts a 1

-sofa conformation, while rings B and C adopt chair conformations. Cyclopentane ring D adopts a 14

-envelope conformation. In the crystal, O-H

O hydrogen bonds lead to the formation of ribbons running along the a axis. The structure is further consolidated by C-H

O interactions, which link the molecules head-to-tail into ribbons along the a axis.
Related literature
For background to 16

,17

-epoxyprogesterone, see: Breskvar et al. (1995

); Zhou et al. (2009

). For the crystal structure of a related compound, see: Nie et al. (2005

).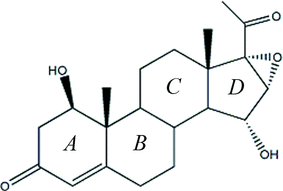 Experimental
Data collection: CrystalClear (Rigaku, 2005

); cell refinement: CrystalClear; data reduction: CrystalClear; program(s) used to solve structure: SHELXS97 (Sheldrick, 2008

); program(s) used to refine structure: SHELXL97 (Sheldrick, 2008

); molecular graphics: SHELXTL (Sheldrick, 2008

); software used to prepare material for publication: SHELXTL.
---
Supplementary data and figures for this paper are available from the IUCr electronic archives (Reference: PV2620 ).
---
Acknowledgements
This work was supported by the National High Technology Research and Development of China (2011AA02A211) and the National Natural Science Foundation of China (Nos. 21076158 and 21276196).
Breskvar, K., Ferencak, Z. & Hudnik-Plevnik, T. (1995). J. Steroid Biochem. Mol. Biol. 52, 271-275.




Nie, Q., Wang, J.-K., Wang, S. & Zhang, M.-J. (2005). Acta Cryst. E61, o912-o913.



Rigaku (2005). CrystalClear. Rigaku Corporation, Tokyo, Japan.
Sheldrick, G. M. (2008). Acta Cryst. A64, 112-122.



Zhou, H., Lu, W., Wen, J. & Ma, L. (2009). J. Mol. Catal. B Enzym. 56, 136-141.