---

Volume 69
Part 3
Page o451
March 2013
Received 13 February 2013
Accepted 20 February 2013
Online 28 February 2013
Key indicators
Single-crystal X-ray study
T = 293 K
Mean

(C-C) = 0.002 Å
R = 0.040
wR = 0.116
Data-to-parameter ratio = 16.3
Details

4-(4-Methoxyphenyl)-6-methylamino-5-nitro-2-phenyl-4H-pyran-3-carbonitrile

aDepartment of Physics, The Madura College, Madurai 625 011, India,bDepartment of Organic Chemistry, School of Chemistry, Madurai Kamaraj University, Madurai 625 021, India, and cDepartment of Food Science and Technology, University of Ruhuna, Mapalana, Kamburupitiya 81100, Sri Lanka
Correspondence e-mail: plakshmannilantha@ymail.com
In the title compound, C20H17N3O4, the central pyran ring adopts a boat conformation with the O atom and diagonally opposite C atoms displaced by 0.1171 (1) and 0.1791 (1) Å, respectively, from the mean plane defined by the other four atoms. The coplanar atoms of the pyran ring and the methoxybenzene ring are nearly perpendicular, as evidenced by the dihedral angle 87.01 (1)°. The amine H atom forms an intramolecular N-H

O(nitro) hydrogen bond. In the crystal, molecules are linked into dimeric aggregates by N-H

O(nitro) hydrogen bonds, generating an R22(12) graph-set motif.
Related literature
For background to compounds containing the 4H-pyran unit, see: Brahmachari (2010

); Hatakeyama et al. (1988

). For 2-amino-4H-pyrans as photoactive materials, see: Armetso et al. (1989

). For graph-set motifs, see: Bernstein et al. (1995

). For ring conformation analysis, see: Cremer & Pople (1975

).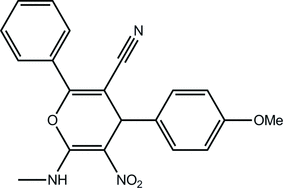 Experimental
Data collection: APEX2 (Bruker, 2004

); cell refinement: SAINT (Bruker, 2004

); data reduction: SAINT; program(s) used to solve structure: SHELXS97 (Sheldrick, 2008

); program(s) used to refine structure: SHELXL97 (Sheldrick, 2008

); molecular graphics: PLATON (Spek, 2009

); software used to prepare material for publication: SHELXL97.
---
Supplementary data and figures for this paper are available from the IUCr electronic archives (Reference: TK5197 ).
---
JS thanks the UGC for the FIST support. JS and RV thank the management of Madura College for their encouragement and support. RRK thanks the DST, NewDelhi, for funds under the fast-track scheme (No·SR/FT/CS-073/2009).
Armetso, D., Horspool, W. M., Martin, N., Ramos, A. & Seoane, C. (1989). J. Org. Chem. 54, 3069-3072.
Bernstein, J., Davis, R. E., Shimoni, L. & Chang, N.-L. (1995). Angew. Chem. Int. Ed. Engl. 34, 1555-1573.




Brahmachari, G. (2010). In Handbook of Pharmaceutical Natural Products. Weinheim: Wiley-VCH Verlag GmbH & Co.
Bruker (2004). APEX2 and SAINT. Bruker AXS Inc., Madison, Wisconsin, USA.
Cremer, D. & Pople, J. A. (1975). J. Am. Chem. Soc. 97, 1354-1358.




Hatakeyama, S., Ochi, N., Numata, H. & Takano, S. (1988). J. Chem. Soc. Chem. Commun. pp. 1202-1204.



Sheldrick, G. M. (1996). SADABS. University of Göttingen, Germany.
Sheldrick, G. M. (2008). Acta Cryst. A64, 112-122.



Spek, A. L. (2009). Acta Cryst. D65, 148-155.