---

Volume 69
Part 3
Page o376
March 2013
Received 29 October 2012
Accepted 31 January 2013
Online 13 February 2013
Key indicators
Single-crystal X-ray study
T = 293 K
Mean

(C-C) = 0.002 Å
R = 0.043
wR = 0.140
Data-to-parameter ratio = 14.8
Details

6,7-Difluoro-1,2,3,4-tetrahydroquinoxaline-5,8-dicarbonitrile

aKey Laboratory of Fine Petrochemical Technology, Changzhou University, Changzhou 213164, People's Republic of China, and bTianjin Entry-Exit Inspection and Quarantine Bureau, Tianjin 300457, People's Republic of China
Correspondence e-mail: hemingyangjpu@yahoo.com
In the title compound, C10H6F2N4, the Car-N bonds are slightly shortened with respect to a standard aniline C-N bond [1.3580 (16) and 1.3618 (16) versus 1.39 Å], thus indicating some

-

conjgation with the electron-acceptor CN groups. The molecule, except for two C atom of the ethylene bridge, is nearly planar, the largest deviation of the other non-H atoms from the mean plane being 0.309 (2) Å. The N-C-C-N torsion angle involving the ethylene bridge is 50.23 (18)°. In the crystal, molecules are connected by pairs of N-H

N hydrogen bonds into chains along [21-1].
Related literature
For general background to the synthesis and use of tetrafluoroterephthalonitrile and its derivatives, see: Meazza et al. (2007

). For reference structural data on tetrafluoroterephthalic acid, see: Orthaber et al. (2010

). For standard bond lengths, see: Allen et al. (1987

). For hydrogen bonding graph-set descriptors, see: Etter (1990

).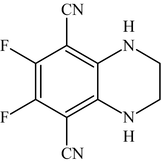 Experimental
Data collection: APEX2 (Bruker, 2007

); cell refinement: SAINT (Bruker, 2007

); data reduction: SAINT; program(s) used to solve structure: SHELXTL (Sheldrick, 2008

); program(s) used to refine structure: SHELXTL; molecular graphics: SHELXTL and DIAMOND (Brandenburg, 2005

); software used to prepare material for publication: SHELXTL.
---
Supplementary data and figures for this paper are available from the IUCr electronic archives (Reference: YK2078 ).
---
Allen, F. H., Kennard, O., Watson, D. G., Brammer, L., Orpen, A. G. & Taylor, R. (1987). J. Chem. Soc. Perkin Trans. 2, pp. S1-19.
Brandenburg, K. (2005). DIAMOND. Crystal Impact GbR, Bonn, Germany.
Bruker (2007). APEX2 and SAINT. Bruker AXS Inc., Madison, Wisconsin, USA.
Etter, M. C. (1990). Acc. Chem. Res. 23, 120-126.




Meazza, G., Bettarini, F. & Fornara, L. (2007). WO Patent No. 2007101587.
Orthaber, A., Seidel, C., Belaj, F., Albering, J. H., Pietschnig, R. & Ruschewitz, U. (2010). Inorg. Chem. 49, 9350-9357.






Sheldrick, G. M. (2003). SADABS. University of Göttingen, Germany.
Sheldrick, G. M. (2008). Acta Cryst. A64, 112-122.