Related literature
For related structures, see: Malone et al. (1997

); Qi et al. (2003

). For imide-amide polymers, see: Sun et al. (2006

); Zhong et al. (2002

). For properties of polymers containing heterocyclic groups, see: Diakoumakos & Mikroyannidis (1994

); Hamciuc et al. (2001

).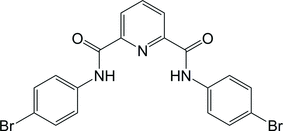 Experimental
Data collection: SMART (Bruker, 2002

); cell refinement: SAINT (Bruker, 2002

); data reduction: SAINT; program(s) used to solve structure: SHELXTL (Sheldrick, 2008

); program(s) used to refine structure: SHELXTL; molecular graphics: SHELXTL; software used to prepare material for publication: SHELXTL and local programs.
---
Supplementary data and figures for this paper are available from the IUCr electronic archives (Reference: YK2085 ).
---
Financial assistance for this project by the Higher Education Commission of Pakistan through the International Research Support Initiative Programe (IRSIP) is acknowledged by the authors.
Bruker (2002). SMART, SAINT and SADABS. Bruker AXS Inc., Madison, Wisconsin, USA.
Diakoumakos, C. D. & Mikroyannidis, J. A. (1994). Polymer, 35, 1986-1990.



Hamciuc, E., Hamciuc, C., Sava, I. & Bruma, M. (2001). Eur. Polym. J. 37, 287-293.




Malone, J. F., Murray, C. M., Dolan, G. M., Docherty, R. & Lavery, A. J. (1997). Chem. Mater. 9, 2983-2989.




Qi, J. Y., Yang, Q. Y., Lam, K. H., Zhou, Z. Y. & Chan, A. S. C. (2003). Acta Cryst. E59, o415-o416.




Sheldrick, G. M. (2008). Acta Cryst. A64, 112-122.



Sun, S., Li, C., Zhang, L., Du, H. L. & Burnell-Gray, J. S. (2006). Eur. Polym. J. 42, 1643-1652.




Zhong, S., Li, C. & Xiao, X. (2002). J. Membr. Sci. 199, 53-58.