Related literature
For general background, see: Holladay et al. (1991

); Kayushina & Vainshtein (1966

); Wu (2009

). For the biological activity of proline derivatives, see: Hayashi et al. (2003

); Nishikawa & Murakami (2005

). For hydrogen bonding, see: Bernstein et al. (1995

). For puckering parameters, see: Cremer & Pople (1975

). For a description of the Cambridge Structural Database, see: Allen (2002

).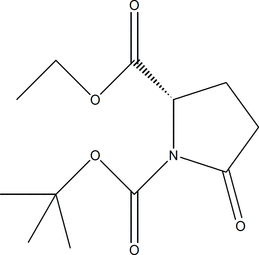 Experimental
Data collection: APEX2 (Bruker, 2009

); cell refinement: SAINT (Bruker, 2009

); data reduction: SAINT; program(s) used to solve structure: SHELXTL (Sheldrick, 2008

); program(s) used to refine structure: SHELXTL; molecular graphics: SHELXTL; software used to prepare material for publication: SHELXTL and PLATON (Spek, 2009

).
---
Supplementary data and figures for this paper are available from the IUCr electronic archives (Reference: BX2436 ).
---
The authors thank Dr MutharasuDevarajan, Associate Professor, and the staff of the X-ray Crystallography Unit, School of Physics, Universiti Sains Malaysia, for their help with the data collection.
Allen, F. H. (2002). Acta Cryst. B58, 380-388.




Bernstein, J., Davis, R. E., Shimoni, L. & Chang, N. L. (1995). Angew. Chem. Int. Ed. Engl. 34, 1555-1573.




Bruker (2009). APEX2, SAINT and SADABS. Bruker AXS Inc., Madison, Wisconsin, USA.
Cremer, D. & Pople, J. A. (1975). J. Am. Chem. Soc. 97, 1354-1358.




Hayashi, S., Tajkhorshid, E. & Schulten, K. (2003). Biophys. J. 85, 1440-1449.





Holladay, M. W., Lin, N., May, C. S., Garvey, D. S., Witte, D. G., Miller, T. G., Wolfram, A. W. & Nadzan, A. M. (1991). J. Med. Chem. 34, 455-457.





Kayushina, R. L. & Vainshtein, B. K. (1966). Soviet Phys. Crystallogr. 10, 698-706.
Nishikawa, T. & Murakami, M. (2005). J. Mol. Biol. 352, 319-328.





Sheldrick, G. M. (2008). Acta Cryst. A64, 112-122.



Spek, A. L. (2009). Acta Cryst. D65, 148-155.




Wu, G. (2009). Amino Acids, 37, 1-17.