---

Volume 69
Part 4
Page o504
April 2013
Received 29 December 2012
Accepted 28 February 2013
Online 6 March 2013
Key indicators
Single-crystal X-ray study
T = 298 K
Mean

(C-C) = 0.003 Å
R = 0.049
wR = 0.187
Data-to-parameter ratio = 15.4
Details

Ethyl 2-(4-methylbenzoyl)-2,3-dihydro-1H-indene-2-carboxylate

aKey Laboratory of Pesticides and Chemical Biology of the Ministry of Education, College of Chemistry, Central China Normal University, Wuhan 430079, People's Republic of China
Correspondence e-mail: qwjgq@163.com
The title compound, C20H20O3, contains two fused rings with a quaternary carbon centre connecting p-toluoyl and ethoxycarbonyl groups. The dihedral angle between the fused benzene ring and the three-C-atom plane (derived from O=C-C-C=O) is 82.5 (4)°, whereas the dihedral angle between the planes of the benzene rings is 53.4 (2)°. In the crystal, molecules are linked via C-H

Oester hydrogen bonds, forming chains propagating along [010].
Related literature
For the preparation and crystal engineering studies of the title compound, see: Singh & Paul (2006

); Wang & Wu (2012

).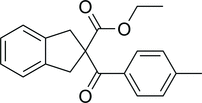 Experimental
Data collection: APEX2 (Bruker, 2004

); cell refinement: SAINT(Bruker, 2004

); data reduction: SAINT; program(s) used to solve structure: SHELXS97 (Sheldrick, 2008

); program(s) used to refine structure: SHELXL97 (Sheldrick, 2008

); molecular graphics: SHELXTL (Sheldrick, 2008

); software used to prepare material for publication: SHELXTL.
---
Supplementary data and figures for this paper are available from the IUCr electronic archives (Reference: GG2108 ).
---
Acknowledgements
The authors are grateful to the Central China Normal University for financial support and thank Dr Xiang-Gao Meng for the X-ray data collection.
Bruker (2004). APEX2 and SAINT. Bruker AXS Inc., Madison, Wisconsin,USA.
Sheldrick, G. M. (1997). SADABS. University of Göttingen, Germany.
Sheldrick, G. M. (2008). Acta Cryst. A64, 112-122.



Singh, P. & Paul, K. (2006). J. Heterocycl. Chem. 43, 607-611.



Wang, J. & Wu, A. (2012). Org. Lett. 14, 6060-6063.