---

Volume 69
Part 4
Pages m177-m178
April 2013
Received 4 February 2013
Accepted 23 February 2013
Online 2 March 2013
Key indicators
Single-crystal X-ray study
T = 296 K
Mean

(C-C) = 0.002 Å
R = 0.030
wR = 0.083
Data-to-parameter ratio = 19.9
Details

Poly[[diaquabis(2-4,4'-bipyridyl)cobalt(II)] dinitrate tetrahydrate]

aUnité de Recherche de Chimie de l'Environnement et Moléculaire Structurale (CHEMS), Faculté des Sciences Exactes, Département de Chimie, Université de Constantine 1, 25000 Constantine, Algeria
Correspondence e-mail: a_beghidja@yahoo.fr
The title compound, {[Co(C10H8N2)2(H2O)2](NO3)2·4H2O}n, (C10H8N2 = 4,4'-bipyridine = 4,4'-bpy) is a layered coordination polymer built up from a cationic square grid extending in (101) enclosing uncoordinating nitrate ions and water molecules. The CoII ion has site symmetry 2 and one of the 4,4'-bpy ligands is generated by twofold symmetry [two N atoms and two C atoms lie on the rotation axis and the dihedral angle between the pyridine rings is 45.66 (5)°]. The other 4,4'-bpy ligand is generated by a crystallographic inversion center. The CoII ion exhibits a slightly distorted octahedral coordination geometry defined by two O atoms of two coordinating water molecules and four N atoms from four bridging 4,4'-bpy ligands. The structure is consolidated by O-H

O, C-H

O and C-H

N hydrogen bonds.
Related literature
For related structures with 4,4'-bpy ligands, see: Aoyagi et al. (2000

); Felloni et al. (2002

); Jin et al. (2006

); Tong et al. (2000

).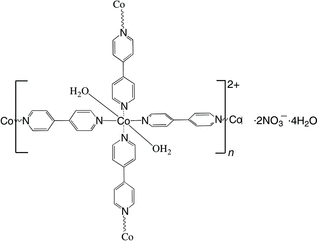 Experimental
Data collection: APEX2 (Bruker, 2006

); cell refinement: SAINT (Bruker, 2006

); data reduction: SAINT; program(s) used to solve structure: SHELXS97 (Sheldrick, 2008

); program(s) used to refine structure: SHELXL97 (Sheldrick, 2008

); molecular graphics: ATOMS (Dowty, 1995

); software used to prepare material for publication: WinGX (Farrugia, 2012

).
---
Supplementary data and figures for this paper are available from the IUCr electronic archives (Reference: HB7035 ).
---
The authors thank the MESRS (Algeria) for financial support. AL thanks the DG-RSDT and ANDRU (Direction Générale de la Recherche Scientifique et du Développement Technologique et l'Agence Nationale pour le Développement de la Recherche Universitaire, Algeria) for support through the PNR project.
Aoyagi, M., Biradha, K. & Fujita, M. (2000). Bull. Chem. Soc. Jpn, 73, 1369-1373.





Bruker (2006). APEX2 and SAINT. Bruker AXS Inc., Madison, Wisconsin, USA.
Dowty, E. (1995). ATOMS. Shape Software, Kingsport, Tennessee, USA.
Farrugia, L. J. (2012). J. Appl. Cryst. 45, 849-854.





Felloni, M., Blake, A. J., Champness, N. R., Hubbertey, P., Wilson, C. & Schröder, M. (2002). J. Supramol. Chem. 2, 163-174.




Jin, J., Niu, S. Y., Yang, G. D. & Ye, L. (2006). Z. Anorg. Allg. Chem. 632, 2350-2354.



Sheldrick, G. M. (2008). Acta Cryst. A64, 112-122.



Tong, M.-L., Zheng, S.-L. & Chen, X.-M. (2000). Polyhedron, 19, 1809-1814.