Related literature
For a related structure and background to 4H-chromene derivatives, see: El-Agrody et al. (2013

). For related structures, see: Wang et al. (2008

); Shekhar et al. (2012

);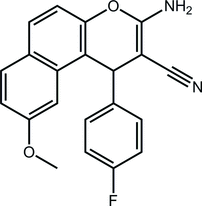 Experimental
Data collection: CrysAlis PRO (Agilent, 2011

); cell refinement: CrysAlis PRO; data reduction: CrysAlis PRO; program(s) used to solve structure: SHELXS97 (Sheldrick, 2008

); program(s) used to refine structure: SHELXL97 (Sheldrick, 2008

); molecular graphics: ORTEP-3 for Windows (Farrugia, 2012

) and DIAMOND (Brandenburg, 2006

); software used to prepare material for publication: publCIF (Westrip, 2010

).
---
Supplementary data and figures for this paper are available from the IUCr electronic archives (Reference: HB7049 ).
---
The authors extend their appreciation to the Deanship of Scientific Research at King Saud University for funding this work through the research group project No. RGP-VPP-099. We also thank the Ministry of Higher Education (Malaysia) for funding structural studies through the High-Impact Research scheme (UM.C/HIR-MOHE/SC/12).
Agilent (2011). CrysAlis PRO. Agilent Technologies, Yarnton, England.
Brandenburg, K. (2006). DIAMOND. Crystal Impact GbR, Bonn, Germany.
El-Agrody, A. M., Al-Omar, M. A., Amr, A. E.-G. E., Ng, S. W. & Tiekink, E. R. T. (2013). Acta Cryst. E69, o476-o477.



Farrugia, L. J. (2012). J. Appl. Cryst. 45, 849-854.





Shekhar, A. C., Kumar, A. R., Sathaiah, G., Raju, K., Rao, P. S., Sridhar, M., Narsaiah, B., Srinivas, P. V. S. S. & Sridhar, B. (2012). Helv. Chim. Acta, 95, 502-508.




Sheldrick, G. M. (2008). Acta Cryst. A64, 112-122.



Wang, X.-S., Yang, G.-S. & Zhao, G. (2008). Tetrahedron Asymmetry, 19, 709-714.





Westrip, S. P. (2010). J. Appl. Cryst. 43, 920-925.