---

Volume 69
Part 4
Page o573
April 2013
Received 13 March 2013
Accepted 16 March 2013
Online 23 March 2013
Key indicators
Single-crystal X-ray study
T = 296 K
Mean

(C-C) = 0.004 Å
R = 0.041
wR = 0.101
Data-to-parameter ratio = 8.6
Details

4,4,6a,6b,11,12,14b-Heptamethyl-16-oxo-1,2,3,4,4a,5,6,6a,6b,7,8,9,10,11,12,12a,14a,14b-octadecahydro-12b,8a-(epoxymethano)picen-3-yl acetate

aUniversity of Peshawar, Institute of Chemical Sciences, Peshawar 25120, Pakistan,bUniversity of Sargodha, Department of Physics, Sargodha, Pakistan,cUniversity of Peshawar, Centre of Biotechnology and Microbiology, Peshawar 25120, Pakistan, and dQuaid-i-Azam University, Department of Chemistry, Islamabad, Pakistan
Correspondence e-mail: dmntahir_uos@yahoo.com
The title compound, C32H48O4, which was extracted from the bark of Rhododendron arboreum, consists of five fused rings to which an acetate and seven methyl groups are attached. The A, D and E rings adopt chair conformations, the B ring is in a distorted chair and the C ring is in a half-chair conformation. The five-membered ring formed by the lactone group, which bridges from the A/B to the B/C ring junctions, is an approximate envelope with the C atom of the methyne group as the flap [displacement from the other four atoms = 0.753 (2) Å]. There are no identified directional interactions in the crystal structure.
Related literature
For a related crystal structure, see: El-Seedi et al. (1994

). For puckering parameters, see: Cremer & Pople (1975)

.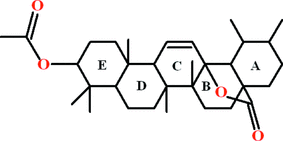 Experimental
Crystal data
C32H48O4

Mr = 496.70

Monoclinic, P 21

a = 13.7309 (8) Å

b = 6.9177 (4) Å

c = 14.8539 (9) Å

= 90.943 (2)°

V = 1410.73 (14) Å3

Z = 2

Mo K radiation

= 0.08 mm-1

T = 296 K

0.35 × 0.20 × 0.18 mm
Data collection: APEX2 (Bruker, 2009

); cell refinement: SAINT (Bruker, 2009

); data reduction: SAINT; program(s) used to solve structure: SHELXS97 (Sheldrick, 2008

); program(s) used to refine structure: SHELXL97 (Sheldrick, 2008

); molecular graphics: ORTEP-3 for Windows (Farrugia, 2012

) and PLATON (Spek, 2009

); software used to prepare material for publication: WinGX (Farrugia, 2012

) and PLATON.
---
Supplementary data and figures for this paper are available from the IUCr electronic archives (Reference: HB7057 ).
---
Acknowledgements
The authors acknowledge the provision of funds for the purchase of the diffractometer and encouragement by Dr Muhammad Akram Chaudhary, Vice Chancellor, University of Sargodha, Pakistan. The authors also acknowledge the technical support provided by Syed Muhammad Hussain Rizvi of Bana International, Karachi, Pakistan.
Bruker (2005). SADABS. Bruker AXS Inc., Madison, Wisconsin, USA.
Bruker (2009). APEX2 and SAINT. Bruker AXS Inc., Madison, Wisconsin, USA.
Cremer, D. & Pople, J. A. (1975). J. Am. Chem. Soc. 97, 1354-1358.




El-Seedi, H. R., Hazell, A. C. & Torssell, K. B. G. (1994). Phytochemistry, 35, 1297-1299.


Farrugia, L. J. (2012). J. Appl. Cryst. 45, 849-854.





Sheldrick, G. M. (2008). Acta Cryst. A64, 112-122.



Spek, A. L. (2009). Acta Cryst. D65, 148-155.