---

Volume 69
Part 4
Page o585
April 2013
Received 8 March 2013
Accepted 19 March 2013
Online 23 March 2013
Key indicators
Single-crystal X-ray study
T = 153 K
Mean

(C-C) = 0.004 Å
R = 0.039
wR = 0.091
Data-to-parameter ratio = 24.2
Details

7-Iodo-3,3-diphenyloctahydrobenzofuran

The title compound, C20H21IO, was synthesized by cyclohaloetherification of 2-(cyclohex-2-enyl)-2,2-diphenylethanol in CH2Cl2, and crystallized with two independent molecules in the asymmetric unit. The six-membered cyclohexane ring adopts a chair conformation, while the five-membered ring adopts an envelope conformation with the fused C atom opposite the O atom as the flap in each case [displacements of the flap atoms = 0.6813 (3) and 0.6679 (3) Å]. In the crystal, molecules are linked via pairs of C-H


interactions, forming inversion dimers.
Related literature
For the title compound as a core structure of many drugs and natural products, see: Huang & Chen (2007

); Trost et al. (2003

). For the synthesis of 2-(cyclohex-2-enyl)-2,2-diphenylethanol, see: Brooner & Widenhoefer (2011

).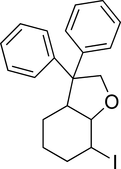 Experimental
Data collection: CrystalClear (Rigaku, 2008

); cell refinement: CrystalClear; data reduction: CrystalClear; program(s) used to solve structure: SHELXS97 (Sheldrick, 2008

); program(s) used to refine structure: SHELXL97 (Sheldrick, 2008

); molecular graphics: SHELXTL (Sheldrick, 2008

); software used to prepare material for publication: SHELXTL.
---
Supplementary data and figures for this paper are available from the IUCr electronic archives (Reference: HG5298 ).
---
Acknowledgements
Financial support from Beijing Institute of Technology is acknowledged.
Brooner, R. E. M. & Widenhoefer, R. A. (2011). Chem. Eur. J. 17, 6170-6178.


Huang, J. & Chen, F. (2007). Helv. Chim. Acta, 90, 1366-1372.



Rigaku (2008). CrystalClear. Rigaku Corporation, Tokyo, Japan.
Sheldrick, G. M. (2008). Acta Cryst. A64, 112-122.



Trost, B. M., Shen, H. C. & Surivet, J. (2003). Angew. Chem. Int. Ed. 42, 3943-3947.